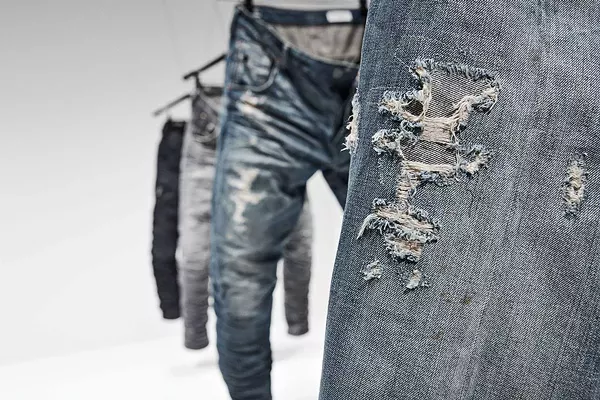 For our latest installment of "things that exemplify Detroit's grossly unequal resurgence" — we bring you a $340 pair of jeans.
These jeans, from G-Star RAW, will soon be available at what appears to be the Dutch denim brand's first planned Detroit location. A job opening for manager says the store is to open downtown, where luxury retailers like John Varvatos and the now-defunct Kit and Ace helped pioneer the concept of offering products that are far too expensive for much of the local population to afford.
While it's unclear exactly where downtown G-Star will open, such stores are often situated on the ground floor of buildings owned by Michigan's richest man, Dan Gilbert. We see the Franklin resident's Bedrock as having taken a sort of "For Us By Us" — or FUBU — approach to its retail offerings, with the "us" being rich suburbanites.
Because really, who the fuck in Detroit can afford a $340 pair of jeans? Not the overwhelming majority of the population. At last check, the city's per-capita income was $15,500 and 1 in 3 of its residents were living below the poverty line.
But with hard work and determination — and maybe a third job — we found that it might be possible for the average Detroiter to afford such coveted threads. Based on some back-of-napkin math, it appears it would require at least 46 hours of work. Actually, let's tack on at least 14 more hours, because our equation didn't factor taxes being taken out of that Detroiter's pay check. Based on per-capita income, then, it would take about 60 hours — a week and a half's worth of work — to afford these pants.

Stay on top of Detroit news and views. Sign up for our weekly issue newsletter delivered each Wednesday.