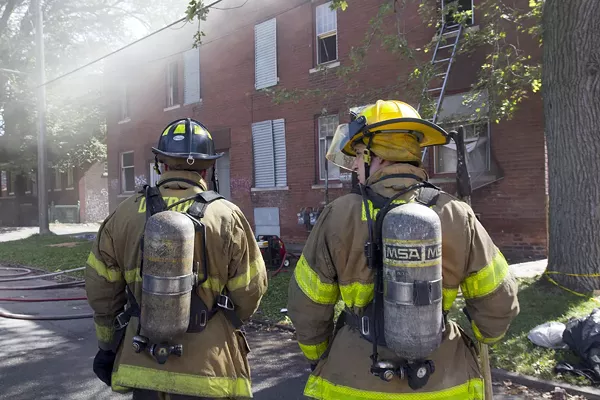 A new written policy ordering firefighters and medics to clean up blood at crime and accident scenes is the subject of a new lawsuit that warns of "imminent health and safety risks" to the public and emergency workers.
The Detroit Fire Fighters Association is asking a Wayne County court to halt the order because medics and firefighters lack the proper equipment and training to dispose of blood safely.
"Without court intervention, the public is also at risk of improperly handled biohazardous materials circulating through the public water and sewerage system, or 'spread' toward Detroit sewers, and the risk of biohazardous materials being handled by personnel not properly trained and equipped to handle materials such as blood, bodily fluids, and other materials that may contain HIV, HVB, and other pathogens," the lawsuit reads.
Metro Times
first
broke news of the policy
on March 6, when DFFA president Mike Nevin filed a complaint with Michigan Department of Occupational Safety and Health Administration (OSHA).
"Employees have received no training on blood and bodily fluid clean up and have no knowledge of proper procedures involved as this is not Fire Fighting or EMS work," Nevin wrote in the complaint. "Employees have not been provided with adequate safety to dilute and flush blood and bodily fluids down drains whether on public or private property."
The fire administration insists firefighters and medics have always been required to clean up blood and that no one complained until the policy was in writing.
Firefighters and medics said that's a lie and that private biohazard experts are typically hired to clean up blood.
In the lawsuit, DFFA attorney Christopher Legghio said the fire department's "unilateral" policy also constitutes "unfair labor practice" because it was never bargained.
In addition, the suit claims, the policy violates the city charter because it takes firefighters and medics away from their responsibility to "protect life and property from fire and other dangerous conditions."
A day after the March 5 policy went into effect, medics were stalled because "we're still cleaning up blood," they told dispatchers.
Stay on top of Detroit news and views. Sign up for our weekly issue newsletter delivered each Wednesday.