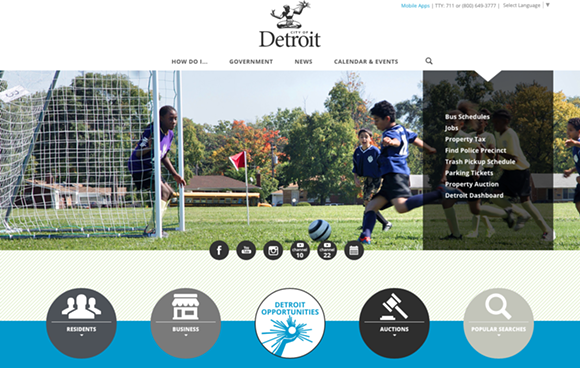 Hey, Detroit! "Surf" on over to
http://www.detroitmi.gov/
for a pleasant surprise — it looks like the city of Detroit has finally updated its website. Our initial impressions are that the new design looks cleaner and more up-to-date.
Last summer,
we reported
that the city was seeking grant money to update the website. Communications director John Roach tells us by phone this morning that the city was not successful in obtaining that grant money, and says that today is the "soft launch" of the new website.
When we originally wrote about Detroit's website redesign plans, Roach said a recent audit revealed the website had roughly 1,200 broken links. The old design had also no mobile version — a problem for the 40 percent of visitors who visited the site with their mobile devices.