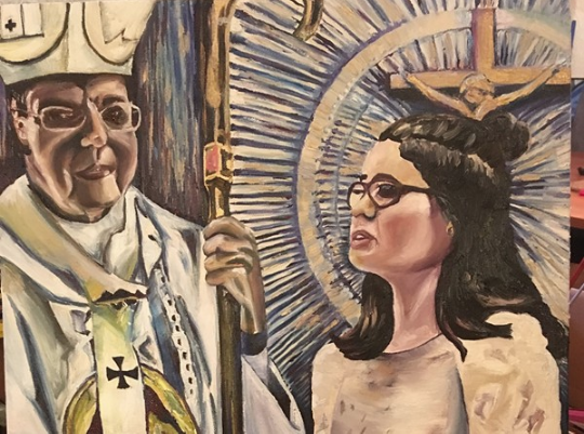 In a series of family photos taken over the past year, the Fleury sisters are seen celebrating childhood's special moments. The three girls squeeze together in floral dresses at eldest Ella's middle school graduation in June, their father's arms wrapped around them. Early this month, they posed on the front porch of their Madison Heights home before heading back to school, 12-year-old Sofia clad in a pink backpack and Camila, the youngest, with her short brown hair tied in pigtails.
But the girls' smiling faces belie the turmoil at home: Last October, their mother was deported to her native Mexico. She had been in the U.S. for nearly 20 years.
Images of the Fleury girls marking milestones without their mother, Laura, are now featured in an art exhibit that aims to draw attention the pain inflicted on families who've been separated due to U.S. immigration policies. For
Moments: What Moments Are Acceptable to Miss?
, family friend Melissa Wilson, a high school fine arts teacher, turned photos of the girls on holidays, birthdays, and other special occasions into oil paintings.
The year without Laura has been "devastating," the girls' father, Doug Fleury, tells us. She missed Camila's first communion and wasn't there to watch the girls blow out birthday candles or open presents Christmas morning.
But Doug says "the not so milestone events — just days in a life" have been difficult too. Laura was a homemaker who made and sold burritos as an additional source of income, and her absence has left the family in disarray. Doug, suddenly a single parent, at one point had to leave the girls at his mother's for several months so they could have rides to school on mornings when he worked.
"[Laura] was a loving, caring mother," Doug says, his voice breaking. "My girls now go to bed every night with out a kiss from mom. It's horrible."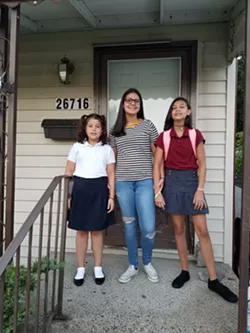 Laura has no criminal history, but was targeted by Immigration and Customs Enforcement because she'd been ordered deported shortly after arriving in the U.S, Doug says. She and Doug didn't marry because they feared it would raise alarms, but a citizen spouse may have been enough to keep Laura here. In a piece published earlier this year —
"A Marriage Used to Prevent Deportation. Not Anymore."
— the
New York Times
reported that undocumented immigrants with old, unenforced deportation orders were being arrested by ICE, even in cases where they received the go-ahead to pursue citizenship via a family connection after interviews with the federal agency handling residency issues.
A few months before Laura's deportation, an immigrant mother in Troy was deported to her native Albania despite having no criminal history and three American-born children and a husband here. At the time, the
Free Press
reported that Cile Precetaj was one of more than a dozen mothers of American-born children who were to be deported from the Calhoun County Jail.
At the opening of the
Moments
exhibit last week, Doug urged attendees to look past the paintings to the policy that has thrown he and his daughters' lives into upheaval.
"Realize there is someone who is not just missing from these photos, but someone who was targeted and forcibly removed," he said. "We have a system that does not respect the God-given rights of families to be together."
"This is so much bigger than us," he added in a phone call Friday. "You didn't just tear apart our family, you hurt the economy, you hurt the community, you have devastated more things than just our daily life."
Moments: What Moments Are Acceptable to Miss?
runs through Oct. 7 at the Swords Into Plowshares Peace Center and Gallery at
33
East Adams St, Detroit.

To donate to the Fleury family, visit their GoFundMe page here.

Stay on top of Detroit news and views. Sign up for our weekly issue newsletter delivered each Wednesday.