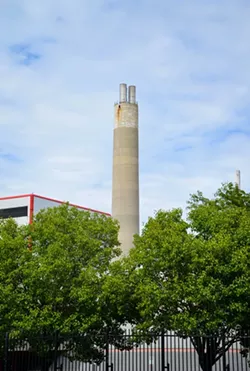 As residents of Detroit's 48211 zip code, Melissa Sargent, her husband, and their five kids live in the line of a special kind of fire — one that ignites trash and spews sometimes hazardous pollutants into the air surrounding their home.
"[We] smell the piled up garbage as we work in our garden, as our kids play outside and ride their bikes, we hear the jet-engine-like sound at all hours of the night," says Sargent. "But what I'm most worried about is what we can't smell or hear."
Less than two miles from Sargent's home on Detroit's quaint
Farnsworth Street
, one of the country's largest trash incinerators burns waste from the city and elsewhere in the region, spitting the byproducts over neighborhoods occupied by thousands of people.
Environmentalists charge the incinerator, owned by Detroit Renewable Power, produces more greenhouse gases than a landfill and that its pollutants endanger residents living near I-75 and I-94. On Wednesday, "America Recycles Day," they gathered alongside Sargent in a news conference to urge Detroit officials to shut down the facility and expand the city's recycling program.
"We must work harder to protect the health of Detroiters and residents with asthma, and just residents who want to breathe clean air — we can't hold our breath," said Galen Hardy of recycling advocacy coalition Zero Waste Detroit. "The mayor and the city leadership have crucial roles in moving to a greener and cleaner Detroit."
The incinerator is known to emit pollutants like sulfur dioxide, carbon monoxide, and particulate matter (PM), at times in excess of
legal limits
.
A decade ago, the
zip codes near
the facility had the highest rates of asthma hospitalization in Detroit — a city with an asthma hospitalization rate that is already
triple the state average
.
But its the more severe health risks associated with particulate matter that have Sargent most concerned. A
ccording to the EPA, not only can the inhalation of PMs exacerbate asthma symptoms, the tiny particles can lodge deep enough into the lungs that they enter the bloodstream, heightening the risk of heart attack or even premature death.
"The bloodstream, the lungs," Sargent emphasizes. "We are literally living and breathing tiny particles of burned trash. We should not have to move away to be healthy."

Environmentalists are hoping to make a dent in the flow of waste heading to the incinerator by encouraging recycling, but they face an uphill battle. By one estimate, Detroit, which introduced citywide curbside recycling only in 2015, recycles just one percent of its waste. Meanwhile, more than 70 percent of the city's trash gets sent to the incinerator.
"The incinerator makes throwing away our garbage financially cheap, but the environmental and public health [affects] are just not worth it," says attorney Nick Leonard with the Great Lakes Environmental Law Center. "Detroit and the communities around Detroit that now burn garbage in the incinerator will not fully engage and invest in the healthier alternative of recycling as long as there is the short-term unhealthy fix of burning garbage."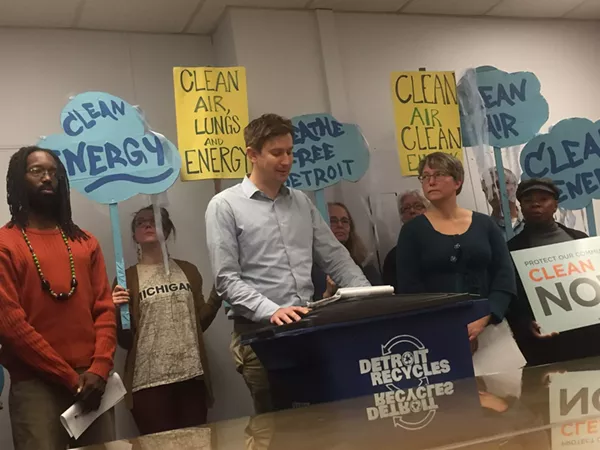 Historically, activists say the burning of waste has been closely tied to a lack of recycling options in Detroit: Until about 2010, they say the city had a guaranteed-tonnage contract with the company that owns the incinerator.
Under a new contract in effect through 2021, which does not mandate a specific amount of trash be sent to the facility, the nonprofit Great Lakes Environmental Law Center says city residents supply about a quarter of the trash burned, with the rest coming from elsewhere in the region. (The nonprofit law group has also found that municipalities like the Grosse Pointes pay a cheaper rate to send their trash to the site — meaning Detroiters subsidize the burning of trash from wealthier places, jeopardizing their own health in the process.)
But accepting waste to be burned is only one source of revenue for the facility. Detroit Renewable Power is named such because it uses the trash burning process to create energy that in turn helps heat or power up homes and businesses in the city's core. It's this scheme that activists say continues to dis-incentivize recycling: According to the Global Alliance for Incinerator Alternatives (GAIA), incinerators that burn waste to generate energy cannot do so solely by relying on municipal solid waste because its high organic content gives it a low energy value. Instead, to generate more energy, GAIA says such facilities rely on
recyclable materials
like paper, plastics, and even additional fossil fuels.
"Contrary to its name, the energy produced [by Detroit Renewable Power] is not really renewable in the same way that wind and solar are clean and natural sources," says
William Copeland of Breathe Free Detroit
. "We need to find ways to make energy that doesn't make us sick, that doesn't contribute to global warming, that doesn't damage the world we all have to live in."
Activists say another energy source could be utilized to generate steam to power businesses. In 2009, for example,
natural gas
was briefly used to supply thermal energy to clients when the contract between the incinerator and Detroit Thermal expired. Today, Detroit Renewable Power sells the steam and electricity it produces to DTE Energy.
Copeland also notes that Mayor Mike Duggan this year joined the U.S. Conference of Mayors in backing a plan for cities to run entirely on
renewable sources
by 2035, and that the pledge
does not allow waste burning
.
'Detroit owns the land on which the incinerator sits, sends its trash to the incinerator, and allows other communities to import their trash without limitation. Detroit can and must take action.'

tweet this
For the environmentalists, who have been circulating a
petition
calling on Duggan to shut down the waste-burning facility, the decision rests squarely with him and the city council.
"Detroit owns the land on which the incinerator sits, sends its trash to the incinerator, and allows other communities to import their trash without limitation," said Leonard. "Detroit can and must take action."
But the city doesn't seem to agree.
"The Greater Detroit Resource Recovery Authority is not a City-run facility and therefore [the city] has no direct authority over its operation," Detroit corporation counsel Melvin Butch Hollowell said in an emailed statement Wednesday. "The City fully expects that GDRRA will maintain compliance with state and Federal emission standards." (The Greater Detroit Resource Recovery Authority is the agency responsible for overseeing disposal of the city's municipal waste.)
MDEQ this year reached a consent agreement with Detroit Renewable Power over its most recent known air quality violations. The facility was fined $149,000 and agreed it would improve air quality monitoring and start up and shut down procedures. Activists said the agreement amounted to a
slap on the wrist
.
The owners of the facility entered into a separate consent agreement over
odor issues
in 2014.
Detroit Renewable Power, for its part, has claimed that its "modern" energy-from-waste facility works "very differently from old fashioned municipal 'incinerators' that were primarily built to reduce waste volume."
"
Our EFW facility
produces steam and electricity that reduces burdens on landfills, recycles waste metals, doesn't smoke, and cuts greenhouse gas emissions," the
Detroit News
reports the company's website said last year.