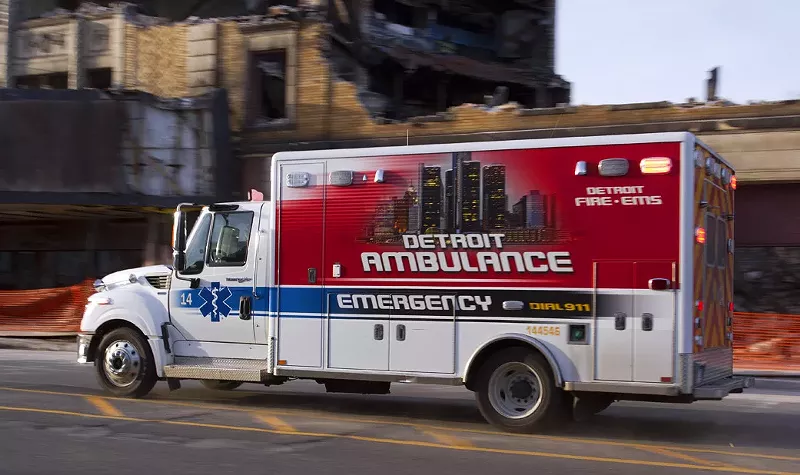 A Detroit EMS captain who posted nearly 200 vile, demeaning and sometimes threatening memes and comments on social media about Muslims, immigrants, African Americans, Asians, women, and gay people
has
returned to his supervisory position.
Capt. Tim Goodman was demoted to lieutenant in late 2017 and given a second chance through binding arbitration. The arbitrator ruled that Goodman could regain his captain title if he behaved for one year. Earlier this month, Goodman became a field supervisor with the rank of captain.
But records obtained by
Metro Times
show Goodman was accused in October of discriminating against a black medic and Asian medic. And three medics interviewed by
Metro Times
said they are worried Goodman will use his position of authority to retaliate against people who he suspects alerted the top brass to his bigoted Facebook posts.
After the election of Donald Trump, the posts became more egregious. In one, he suggested "snowflake pussies" should kill themselves, and he even endorsed the slaughter of Muslims.
Here is a small sample of his Facebook posts:
• He took a photo of black people standing in line for free cell phones at a tent. "In case you were wondering what the hell is wrong with America, I took this pic an hour ago at the corner of Greenfield and Grand River in Deeeeetroit."
• On a story about former Detroit City Councilwoman Monica Conyers losing her job at 910AM the Superstation: "You can't take the rat out of the hood, or can you?"
• He wrote, "Evidently now snowflake pussies are complaining that news and social media updates on their smartphones are causing them stress enough to complain to doctors. Are you actually fucking serious? Headlines causing you stress? How about you shove your smartphone
up
your ass? Or shut off the alerts? Or you ask the same doctor for advice on suicide, not preventing it!"
• Why do so many Muslim men fall in love with goats? Because they have less body hair than Muslim women."
• "I say we tell the Chinese that the Moslem Jihadi's testicles are aphrodisiacs. In 5 year tops, they'll be extinct."
• A meme shows a young child holding a goat: "When your little car bomber brings home his first girlfriend."
• A photo depicting a Hispanic man hugging an obese white woman: "Mexicans be like, anything for papers."
• One meme of Muslims says, "Trust me, they're all terrorists."
• "He needs a shank in his chest," Goodman wrote of the man charged with shooting 2 Detroit police officers.
• A meme shows a female astronaut: "Because sandwiches won't make themselves up here."
• These words appear on a photo of a dead pig: "Rosie O'Donnell had to be removed from her home."
• Above a photo of a young child protesting Donald Trump: "Pathetic. Good thing the little shitbag doesn't have school tomorrow huh??"
• He calls Trump protesters "a complete and total waste of humanity" and later joked that he had plowed over demonstrators "with the front bumper of my big ass truck."
• On a photo of a black man wearing a shirt that reads, "They can't deport us all," a meme reads, "Yes we can."
Fire Commissioner Eric Jones said he was not aware of the most recent harassment complaint filed against Goodman, but said he takes personnel decisions "seriously."
In October, a black medic alleged Goodman was harassing him and his partner and threatened to discipline them for allegations they deny.
"I have to be perfect while I hate to say it, 'other' guys break policy and procedure and laughs with them," the medic wrote in the complaint. "Could it be a race thing? I don't know but I'm feeling lost and hurt."
Stay on top of Detroit news and views. Sign up for our weekly issue newsletter delivered each Wednesday.