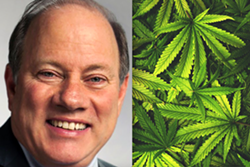 Ballots in and around Detroit were generally devoid of close competitions in yesterday's off-year election, but there were some key races worth following. Mayors were up for re-election in Detroit, Hamtramck, and Pontiac; Detroit hosted a tight race for city clerk after voting irregularities were found in last year's election; and east siders cast ballots in a special election to fill a vacant seat in Michigan's House. And of course, weed. There were some weed proposals on the ballot in Detroit aimed to loosen restrictions on the substance.
Here are the winners and losers:
Weed:

Marijuana wins
in Detroit. Voters opted to pull back back some of the regulations the city put on marijuana facilities last year, approving a proposal to cut the distance dispensaries can be from parks, day care centers, liquor stores, churches, and other provisioning centers. The proposal will also allow pot shops to stay open an hour later, until 9 p.m.
A second proposal approved by voters will allow the city to "opt in" to the state's new medical marijuana licensing rules.

Detroit Mayor:
Detroit Mayor Mike Duggan sails to a second term, easily defeating State Sen. Coleman Young II, 72% to 27%. Read about the challenges that lie ahead for Duggan
here
and
here
.
Detroit City Clerk:

Janice Winfrey defeats Garlin Gilchrist by just a razor-thin margin after being blamed by some for
voter discrepancies
during last year's election. Gilchrist, a former technology director for civic community engagement in the Duggan administration and the former national campaign director for Moveon.org, had an ambitious vision that included growing voter participation in Detroit.
This will be Winfrey's fourth term. She lists cleaning up the city's voter rolls and expanding absentee voting among her accomplishments.

Detroit City Council Races:
Almost all of Detroit's city council members appeared poised to hold onto their seats with the exception of District 2's
George Cushingberry
, who was knocked out in the primary. Second-district voters elected former Detroit cop Roy McCalister, a serial candidate with no experience in governance, over challenger and former State Sen. Virgil Smith. Smith resigned from the Senate last year after pleading guilty to shooting his wife's Benz.
Here's McCalister, in his own words in a candidate questionnaire submitted last week to
Metro Times
:

MT: Why should Voters elect you?
Roy McCalister: By City Charter, City Council is the Legislative Financial overseer for the City of Detroit; dealing with contracts, budgets … the overall finances for the City of Detroit. Utilizing resolutions and ordinances to support and provide representation for the people of Detroit. Council has Investigative powers to review acts and violations referencing the concerns and interest for citizens and the City of Detroit; Subpoena powers to order individuals and entities before council to address questions, provide answers and bring full disclosure on matters effecting the decisions City Council will render on behalf and as representatives of the people. City Council must build relationships with local, state and federal legislatures; as well as entities, offices and associations to assist and support the quality of life for Detroiters. Each of the above charter provisions I have accomplished throughout my career at the local, national and international levels; therefore, I ask the people of District 2 to allow me to bring my experience regarding these endeavors to be their representative at the Council Table.

MT: What are the top issues in your District?
McCalister: With the diversity of District 2, there are a variety of issues plaguing our communities. Although Crime and Public Safety are major factors not only in District 2, but throughout the City of Detroit (which are issues on my radar), because of my law enforcement background, I do not want the constituents of District 2 to consider me as one dimensional; therefore, in my opinion Medical Marijuana Dispensaries, foreclosures and I'll have to add blight as some of the issues I consider problems that effects the quality of life for people in District 2.


Hamtramck Mayor:

Hamtramck Mayor Karen Majewski, of Polish descent, will stay on the job in the heavily Muslim community, thwarting a challenge from Muslim and Bangladeshi-American Mohammed Hassan.
Pontiac Mayor:

Pontiac Mayor Deirdre Waterman
is re-elected.
Flint Mayor:

Flint Mayor Karen Weaver survives a
recall vote
.
Michigan's 1st House District, special election:

Former assistant Wayne County Prosecutor Tenisha Yancey (D) easily defeats self-described Tea Party candidate Mark Corcoran.