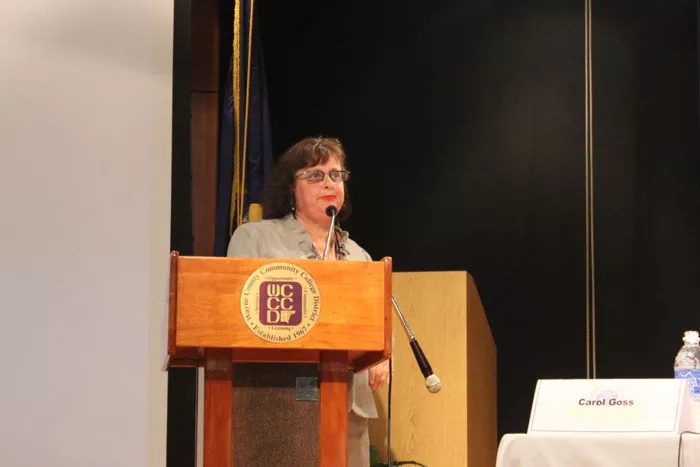 It's an experience many of us have had: We're driving in winter and hit an icy patch of road. As that stomach-dropping feeling of sliding out of control hits, time, for an instant, lapses into slow motion, and the whole scene turns slightly surreal.
Something akin to that occurred during last week's meeting of the board overseeing Michigan's Education Achievement Authority. An experiment being carried out on the students enrolled at 15 low-performing schools (three of which are operated by charters) that were formally part of the Detroit Public Schools system, the EAA is Gov. Rick Snyder's attempt to re-invent public education.
"A different system, for a different outcome" is the district's motto.
Begun amid a swirl of controversy and bold promises, the EAA has been hitting patches of serious ice since it began operating schools in the fall of 2012. Long-held concerns by some that the district was veering out of control hit a new level last week, when Chancellor John Covington unexpectedly resigned with one year remaining on his $1.6 million contract. When someone relinquishes hundreds of thousands of dollars in order to attend to family issues and pursue a career in consultancy, which has been Covington's explanation for quitting, there is usually much more to the story. And rarely is it good.
Although he didn't leave to become a consultant, Covington's departure from his previous job as superintendent of Kansas City Public Schools — after assuring the board there that he wasn't interviewing anywhere else — is instructive. Two week's after Covington's arrival in Detroit, the KC schools were taken over by the state of Missouri because of their exceedingly low performance.
There's going to be no such announcement following his exit from Detroit, of course, since the EAA is already under direct state control. In fact, Covington was supposed to be the fix, the guy to show how things can be done when given both a blank slate in terms of approach, and the complete absence of any responsibility to a democratically elected board of public education.
The 11-member board Covington answers to — or at least was supposed to answer to when still employed by the district — is dominated by gubernatorial appointees. Snyder directly selects seven members, and DPS — which is under state control — appoints two. The other two are appointed by officials at Eastern Michigan University, which continued to partner in the project despite protests from faculty and students unhappy with the course the EAA has taken.
When it comes to the EAA, the bad news just keeps piling up.
Media turns up heat
For a while now, the website Eclectablog has been out in front of all other media, offering a string of reports from (mostly) anonymous EAA teachers describing a host of alleged problems within the district, from physical abuse of students to technology problems to issues regarding special-education students not getting the services due them. Those accusations and more were put on the official record during a hearing on the EAA held in April at the state Capitol by Senate Democrats.
More recently, the Detroit News caused a considerable stir last month when it reported about the high credit card tabs Covington and crew were racking up — to the tune of $178,000 — flying around the country to attend academic conferences. And Bridge Magazine, a respected online publication produced by the nonprofit Center for Michigan, has just posted a story detailing how record-keeping snafus are preventing some students from getting the transcripts needed for college, among other problems. The headline for that story — "F is for frustrated — disorganization at Detroit EAA schools leaves students scrambling to graduate" — says a lot, but not enough to generate any public questions from board members.
Part of what made last week's board meeting so strange was the lack of any substantive dialogue regarding Covington's departure — which, by any standard, was a red-flag-generating event.
Equally disconcerting for those who like to see government work in an open manner was the way in which Covington's temporary (at least for the moment) replacement was selected. With no public discussion whatsoever about how the decision-making process worked, the board emerged from a closed session to announce that Veronica Conforme had been hired as interim chancellor while a nationwide search is launched to find a permanent replacement for Covington. Conforme has been working with the district as a consultant for the past six months. She previously served as chief operating officer of New York City's public schools, and had been a finalist for the superintendent's job in New Orleans. In fact, the New Orleans Times-Picayune reported on its website that Conforme had taken her name out of the running for that job while the EAA board was still meeting behind closed doors.
Fire and ice
Adding to all the bizarreness was activist Helen Moore, a high-profile critic of both the EAA and the state's takeover of Detroit's public schools. At one point, Moore sat in the audience, holding an iPad in front of her face with the screen showing a picture of Covington, smiling like he'd just hooked another sucker into playing a game of three-card Monte.
An equally weird moment occurred when a handful of the 100 teachers whose contracts aren't being renewed were permitted five minutes each to appeal their layoffs to the board in open session. (Others decided to make their appeals in closed session.) The layoffs are necessary because student enrollment at EAA schools has plummeted, from about 11,000 when the doors opened in the fall of 2012 to a projected 7,200 for next year.
Aside from the spectacle of teachers struggling to retain their composure while on the hot seat fighting to keep their jobs, there were the comments from Gregory Galperin, a teacher at Henry Ford High School. Galperin caused eyebrows to rise among board members when he talked about the high turnover rate at Ford.
"We had teachers walk away halfway through the school year this year," he said. "When you see that, it throws up a red flag."
Questions unasked
No board members asked what it was about working conditions that would cause some teachers to depart just as abruptly as Covington.
Like Galperin, seven others – among 99 teachers and other EAA employees losing their jobs – went public with their pleas to be retained. Given 5 minutes each at the mic, some were skittish with nerves as they made their pitch. Others choked back emotion as they talked about how important they believed their jobs to be, and the difference they made in the lives of children they loved teaching.
Those losing their contracts had the option of making their appeal to the board during a closed session, and a number asked to do so. And so the board retired behind closed door for much of the afternoon, listening to people explain why they shouldn't be sent to the unemployment line.
Though it was never made at all clear how the selection process had worked, the board apparently found time to also squeeze in a discussion of who would be best suited to fill Covington's job on an interim basis.
When the public session finally resumed, the names of several teachers who might be spared the axe were offered up for further review by staff. The hiring of Conforme, who wasn't present, also was announced. The board provided quick assurance that she's well-qualified to continue the good work begun by Covington.
Also hired was Mario Morrow, as the district's new director of communications. Not only was he present, he was working the room, providing information and answering questions before he'd even had the opportunity to take his own turn at the mic, where he outlined his impressive resume for the board members. When done, he offered to answer any questions.
There were none. Neither was there any discussion. The vote to approve his hiring was unanimous.
Afterward, having waited well over three hours, four members of the public were allowed two minutes each for comment. Two were parents who came to sing the EAA's praises, testifying as to how much better their children are now than when they were under Detroit Public Schools, and urging board members to stay the course.
"I'm in the schools with these kids," said Alicia Champion, one of the parents. "The system you guys have is working."
Activist Moore called for just the opposite, telling the board that this experiment has failed, and that the schools and the students in them needed to be returned to DPS.
Another persistent critic of the EAA -- Thomas Pedroni, an associate professor at Wayne State who specializes in education – told the board that there is a troubling contradiction regarding test scores.
Earlier, deputy chancellor Mary Esselman had provided the board with a rundown of recent internal achievement tests, which show EAA students making remarkable strides in reading and math, with some achieving as much as two year's growth in a single school year.
Those internal results, however, are in marked contrast to the recently released results of the state's standardized MEAP tests, which showed a large number of EAA students either stagnating or, in a number of cases, regressing in terms of proficiency.
Are students making great strides forward, as Esselman reported? Or are a majority of them doing as poorly as the MEAP scores indicate? Both can't be true, Pedroni told the board.
Esselman's explanation for the differing results, at least in part, was that EAA teachers focus on the job at hand, doing what is truly in the best interest of the students rather than tailoring their education to simply perform well on some standardized test.
The irony of Esselman's explanation is that low MEAP scores at some "failing schools" were a key factor in justifying the need for the EAA in the first place. Now, though, those same kinds of dismal scores are apparently no longer a signal of failure.
If board members had any concerns that Esselman's explanation might be a little too slick, or at least worth of at least a little more scrutiny, they didn't let on.
Neither did they raise a single question about all the other disturbing reports and accusations, even though the controversies are beginning to pile up, holding the potential to become the kind of multivehicle wreck you sometimes see when conditions get really bad.
Instead, they cast their eyes to the road ahead, as if there were nothing but sunny skies above.
Curt Guyette is an investigative reporter for the ACLU of Michigan. His work, which focuses on Michigan's emergency management law and open government, is funded by a grant from the Ford Foundation. You can find more of his reporting at aclumich.org/democracywatch. Contact him at 313-578-6834 or [email protected]