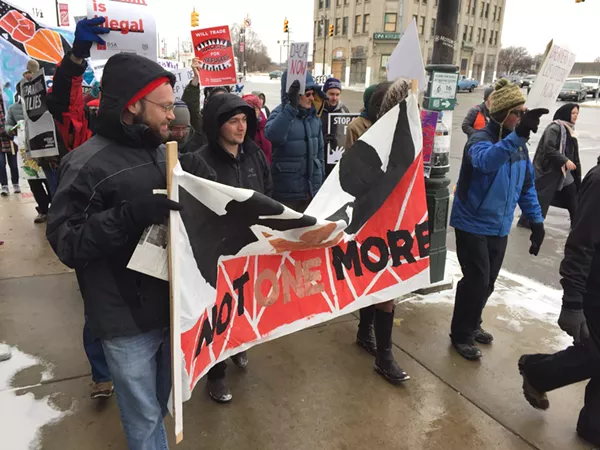 Juan Gonzalez was brought to the U.S. from his native Mexico when he was just a year old. His parents had immigrated here illegally, and it took Gonzalez until the age of 16 to discover the consequences of that choice.
He'd just gotten his first job, as a dishwasher in his hometown of Detroit, when on day two, his boss asked for his papers. Gonzalez lost the gig.
"I drove home in tears," Gonzalez, now 24, said alongside a crowd of demonstrators gathered in front of Detroit's old train depot Saturday. "I was so upset because I had known no other place. This was my home. This is like getting your home snatched away from you, getting torn away from your family, torn away from the opportunities that everyone else was getting but you weren't afforded because you were undocumented."
A few years later, relief would materialize in the form of former President Barack Obama's Deferred Action for Childhood Arrivals program. Gonazalez
was suddenly able to find work, pay his way through college, and now has his sights set on becoming a civil rights or immigration lawyer.
But Donald Trump's presidency has thrown a wrench into those plans. Last September, Trump announced he would phase out DACA for current recipients, a move that would put Gonzalez and
more than 6,000 other Michigan Dreamers
at risk of deportation.
Democrats caused a brief government shutdown last month by demanding that a stop-gap spending bill include protection for Dreamers, but their fight only lasted three days. More than three dozen Democrats,
including Michigan Senators Debbie Stabenow and Gary Peters
, voted to approve a spending bill to reopen the government after Senate Majority Leader Mitch McConnell promised to bring bipartisan Dream Act legislation introduced last year to a vote after Feb. 8 — the next spending bill deadline.
But that promise isn't good enough for Gonzalez and other young immigrants whose lives are in limbo. With the spending bill deadline looming, he and several dozen demonstrators gathered Saturday to demand that Michigan's Democrat Senators only support the legislation if it includes a "clean" Dream Act.
Carrying signs that read "Clean DREAM Act" and "DREAM Act now," the demonstrators marched from from Roosevelt Park to the federal building in downtown Detroit under light snow. Organizers aimed their call for a "clean" Dream Act specifically at Sen. Gary Peters. Last month, they delivered the same message to Sen. Debbie Stabenow during a
sit-in at her Detroit office
.
The demonstrators say that not only must Democrats get protections for DACA recipients passed immediately — the legislation cannot come with concessions that hurt other immigrants or would-be immigrants.
"Come for one, face us all," said Xochitl Cossyleon, a 24-year-old DACA recipient who moved to Detroit when she was two. "We have families being separated, and we have a [host of other issues related to immigration] and ... we will continue fighting for everybody."
The White House has reportedly demanded that any DACA bill include funding for a border wall with Mexico, and an end to the visa lottery and so-called "chain migration," or family-reunification immigration policies. Senate Democrat Dick Durbin and Republican Lindsey Graham have cosponsored a bi-partisan Dream Act bill that the White House has said it
will not support
in its current form.
It's unclear whether another showdown over immigration will play out this week. McConnell has reportedly said the threat of a shutdown over the issue "has clearly been eliminated."
Despite that claim, Cossyleon plans to continue the routine she's developed since Trump took office: Checking headlines daily with the hope that they'll provide answers as to whether she can stay in the only country she knows.
"It's been stressful to live through all this and wake up every morning and check the news and see what's changed," she said. "It's hard to try to even imagine the next year from now."