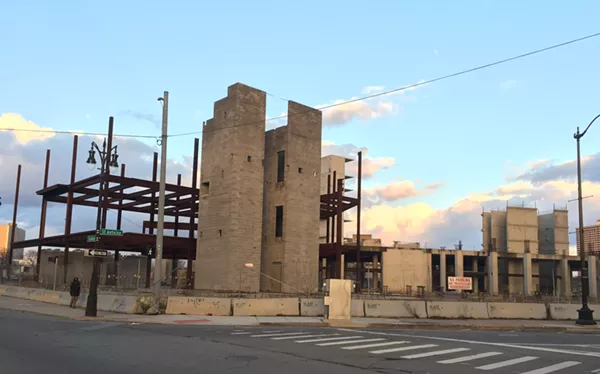 Detroit City Council will vote today on whether to approve a proposed land swap with Wayne County that would put Dan Gilbert one step closer to getting a 15-acre downtown parcel where a half-built jail sits.
The complicated trade was set into motion when Gilbert announced early this year that he wanted to build a professional soccer stadium at the location. Plans for that have since been
scrapped
, with Ford Field listed as the preferred site for play in an
application to Major League Soccer
. Gilbert's Rock Ventures has indicated it still plans to build a mixed-use development at the site on Gratiot Avenue just north of Greektown.
In exchange for the land, Rock Ventures would build the county a $520 million criminal justice complex at I-75 near E. Warren. But part of that land is city-owned, and in order for the county to acquire it to make the trade with Gilbert, city council must approve a separate swap. That deal would give the county a portion of a Detroit Department of Transportation property at the new site. In exchange, the city would get the abandoned
American Motors
headquarters on the west side, which the county foreclosed on a couple of years ago.
But as all of this high-level maneuvering goes on, people who live around the proposed site of the new criminal justice complex are growing concerned about what the erection of a jail and juvenile detention center will mean for their quality of life. And, according to a
Free Press
report, some of those residents say they
weren't consulted
about the proposal.
"There hasn't been a lot of transparency about this deal thus far," Detroit resident Nicholas Miller told the daily paper last month at a community meeting on the issue. "I'm surprised no one in power has come to our neighborhood and proposed what they wanted to do."
According to the Freep, some people are worried about
letting their kids walk around
the area when the criminal justice complex goes up. The paper talked with a woman whose three daughters walk several blocks to school at the Golightly Education Center every day, right around where the jail would be.
"I just don't understand how they can talk about building a jail over there and we've got all these schools and stuff over here by us," Venus Patton told the paper. "My thing is, y'all didn't even finish building the jail that you started building on Gratiot... We don't want all that stuff in our neighborhood."
The proposed jail site is in councilwoman Mary Sheffield's district. She has said she's opposed to the deal as it stands.