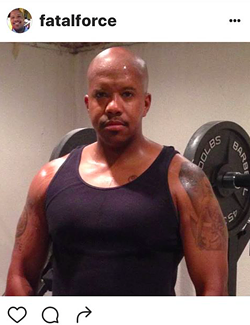 We had hoped we'd never have to write about Detroit police officer Jerold Blanding again, but, alas, here we are.
You may remember Officer Blanding for fatally shooting an unarmed teenager behind an abandoned house last year in a case that benefited from no eye witnesses or video footage. (He was
cleared of wrongdoing
by the prosecutor's office in December.) Or you may remember his Instagram handle, FatalForce, which was promptly disabled once we
discovered it after the killing
. Or you may remember him from a
Metro Times cover story
that detailed his near-killing of another unarmed person in the late '90s. Or you may remember him from a
2015 incident
in which he pumped more than a dozen bullets into the car of a man he did not know. Or you may remember him as the cop who
shot a (presumably) innocent pigeon
.
We've reported on it all, and we'll catch you up in a minute. But for now, here we go, bringing you yet another story of alleged wrongdoing by Officer Blanding, a longtime member of the Detroit Police Department.
In January, while Blanding was on restricted duty and not to be carrying a gun due to last year's killing, the prosecutor's office says Detroit police found him at the scene of a car crash smelling like booze, slurring his words, and illegally carrying three guns. As officers tried to render aid to the the person hurt in the crash, the prosecutor's office says he resisted and obstructed their efforts. Blanding was off duty at the time and apparently knew the accident victim, though the prosecutor's office says he was not involved in the crash.
Blanding is charged with three counts of possession of firearm while under the influence, eight counts of resisting and obstructing the police, and six counts of felony firearm. He was arraigned this afternoon in 36th District Court.
Police Chief James Craig intends to request Blanding be suspended without pay, a spokeswoman for the Detroit Police Department said. He is currently suspended with pay.
It's not clear why Blanding was still on restricted duty almost a full year after the fatal shooting and weeks after he had been cleared of any wrongdoing in the case. Officers involved in fatal shootings are routinely placed on "disabled" restrictive duty, though how long that lasts is up to the department.
"Every officer involved shooting, our officers go through an evaluation with a doctor, Craig said in a news conference Wednesday. "Part of the role that we play is that we make an evaluation as well and there are times that we feel that the person is not ready to go back to work and for that reason we put him on restrictive duty."
We wonder if Blanding's history of violence may have had anything to do with the decision to keep him off the streets even after he was cleared. More details on his past are available below, from our
Dec. 28 report
, "Detroit cop known online as 'FatalForce' cleared in killing of teen":
The department had gone about 18 months without killing any citizens, when, in February, Officer Jerold Blanding chased 19-year-old Raynard Burton behind a house and shot him after an alleged struggle. Officers said they pursued Burton, who later turned out to be a carjacking suspect, because he'd been speeding. When Burton crashed and ran from his vehicle, Blanding eventually left his partner behind to go after him on foot. Once out of view, Detroit police said the teen "lunged" at Blanding in an attempt to grab his gun, causing him to fire the single, deadly shot.

Last week, as the Wayne County Prosecutor's Office doled out murder and misconduct charges to local law enforcement officers accused of acting inappropriately throughout the year, it declined to charge Blanding in Burton's death. With no eye witness accounts or body- or dash camera video apparently available for the Detroit police-led probe into the officer's actions, the county prosecutor described signs of a close-range bullet wound as corroborating Blanding's version of events and determined the shooting was justified.

It's the third time Blanding, a more than 20-year veteran of the Detroit Police Department, has been cleared of wrongdoing in the shooting of a citizen. The two previous off-duty and non-fatal encounters have prompted excessive-use-of-force lawsuits against the department, with one suit resulting in a six-figure payout for a victim and the other still pending. Blanding was never charged by the Wayne County Prosecutor's Office in those shootings. He was, however, found by the Detroit Police Department to have inappropriately used force in a 2010 incident, according to a list of citizen complaints filed against him and obtained by Metro Times through a Freedom of Information Act request. He was also disciplined early in his career for shooting a pigeon with his department-issued Glock, according to a report by the Detroit News. By the time Blanding killed Burton in February, he had made his Instagram handle "FatalForce."

In the more recent non-fatal shooting at the heart of a civil rights suit against DPD, Blanding is accused of unloading more than a dozen bullets into the vehicle of an unarmed Detroit resident who was involved in a domestic dispute with the mother of his child. According to victim DeMar Parker's account of the 2015 incident, his child's mother was dating a Detroit police officer who apparently called two of his fellow officers for help, one of whom was Blanding.

When the un-uniformed officers arrived and began to close in on him, Parker said he ran to his car and took off, driving a few blocks before turning the car around to head back in the direction of his home. He said he decided to return using the same road in an effort to get the license plate number of the vehicle in which the officers had shown up.

As Parker headed back down the street, he said one of the officers stepped into the middle of the road and pointed his gun directly at him. Parker said he swerved to avoid him when Blanding, who Parker said had been standing on the sidewalk, suddenly opened fire.

Parker ducked as he said Blanding shot repeatedly at his vehicle, sending bullets whizzing past his head. One of the bullets hit his leg. DeMar Parker says he was shot by Officer Jerold Blanding after arguing with the girlfriend of another Detroit cop. A lawsuit says the officer unjustifiably fired approximately 15 bullets into Parker's car.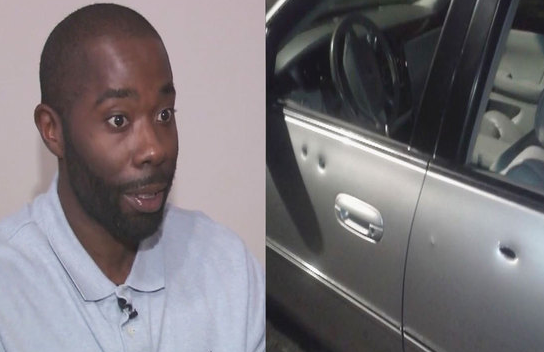 Blanding, for his part, told investigators that Parker had come back down the street waving a pistol and that he feared Parker would shoot his fellow officer or hit him with his vehicle. Blanding was the only witness to claim Parker had a gun.

Others who were interviewed by detectives spoke mostly to the manner in which Parker approached the officers in his car. A neighbor said she saw Parker drive up slow in an attempt to "intimidate" the officers, while the grandfather of Parker's child, who was not an eye witness, said he heard a "loud engine" come up the street. The officer Parker said was standing in the middle of the road with a gun said he stepped out of the way so the vehicle could pass but that Parker accelerated and veered towards him, causing him to jump. Blanding, meanwhile, said he heard squealing tires.

The Wayne County Prosecutor's Office declined to file charges in the case, determining that Blanding had acted "in self-defense and/or the defense of others." The office also declined to charge Parker, citing insufficient evidence. The civil suit is set to go to trial this summer.

The officer's first known near-killing of an unarmed citizen occurred 17 years earlier, and was the subject of an award-winning Metro Times cover story, "Under the Gun." In that incident, Blanding repeatedly shot a man who said he'd mistakenly walked up to the officer's vehicle at a drive-up ATM.

According to court records referenced in the report, trouble with the cash machine had compelled the victim, Johnny Crenshaw, to get out of his girlfriend's minivan to get help from a woman using another ATM. While Crenshaw was out of the minivan, his girlfriend moved to let in another SUV being driven by Blanding, who was off-duty at the time.

As the victim fussed with his cash, card, and wallet, he said he walked back to the spot where the minivan had been and accidentally opened the door of officer's SUV. The officer — who later said he thought the man was an armed robber — opened fire, but only after the victim said he'd already apologized and closed the door.

Blanding stepped out of his vehicle to shoot at Crenshaw, and continued to shoot as Crenshaw retreated to his girlfriend's car while he said he was pleading for mercy. Blanding said he thought Crenshaw had been holding a gun. He hit Crenshaw three times. No gun was recovered at the scene; Crenshaw had been holding his wallet.

The officer was cleared by the Wayne County prosecutor in that case, but elements of the preceding DPD investigation were later called into question by Crenshaw's lawyer. For example, investigators never sought a key witness to the incident — the woman who had helped the victim at the ATM — who Crenshaw's lawyer said he was easily able to reach and who corroborated the series of events as told by the victim. Separately, an investigative report into the incident by the Detroit News found investigators offered the officer leading questions, like "The black object you saw in the complainant's hand, did you think it was a gun?" Also questioned was the length of time investigators sat on the case before handing it over to the prosecutor's office.

The case helped lead to what would eventually be 13 years of federal oversight for DPD. That oversight was lifted in 2016.

Not much has changed in the way the prosecutor's office determines whether charges are warranted in deadly officer-involved shootings. The Detroit Police Department led the investigation into Blanding's killing of Burton before sending its findings to the prosecutor, though some Michigan State Police officers were on the joint team that handles such matters. Detroit police also sat on the case for more than seven months before sharing the completed investigation. The case was initially submitted just after the killing, and quickly returned by the prosecutor's office with a request for more information.

The information eventually sent to the Wayne County prosecutor included a statement from a witness who said he heard officers repeatedly warn Burton to get on the ground. Burton was also found shot with his shirt off once Blanding's partner caught up to him, which Detroit Police Chief James Craig had previously described as a sign of a struggle. And of course, there was the aforementioned close-range bullet wound — a single, deadly shot to Burton's stomach.

After Burton's death, Chief Craig divulged details of the teen's sealed juvenile record in a news conference. Before he turned 18, Burton had been convicted of crimes including car theft and assault. No mention was made of the prior excessive-use-of-force allegations against Blanding.

Blanding was on paid leave or restricted duty for at least 10 months following the killing.
Stay on top of Detroit news and views. Sign up for our weekly issue newsletter delivered each Wednesday.