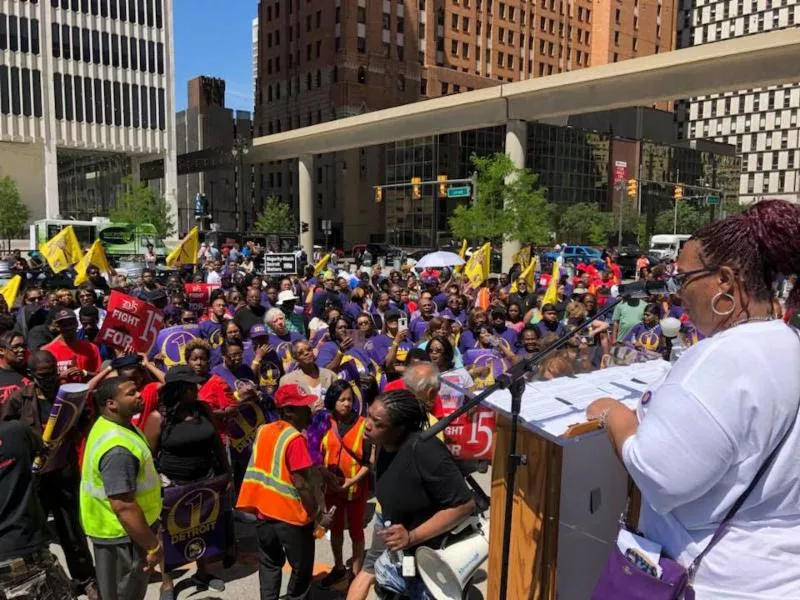 The Detroit City Council has unanimously approved a symbolic resolution in support of a campaign to boost wages for downtown service workers to $15 an hour.
The One Detroit campaign, launched recently by the SEIU, calls for downtown building owners to increase pay for janitors and security guards, and will eventually expand to include workers at Little Caesars Arena, the airport, and fast food restaurants.
The janitors' contract is up for renegotiation and expires July 31. The SEIU says members who occupy those positions are paid between $9.25 an $12.45 an hour.
The council resolution supporting the One Detroit effort "strongly encourages" downtown building owners to "voluntarily commit" to raising pay for janitors and security guards. It notes that some downtown developers have taken advantage of public giveaways, but still pay their workers so little that they need food stamps or housing assistance to get by.
"In recent years, the Detroit City Council and Wayne County Commission have approved more than $1 billion in tax incentives in and around the downtown district," the resolution reads. "However, the unsung heroes of downtown Detroit's resurgence are the hard-working men and women who serve as security guards and janitors, in these new or renovated downtown buildings that symbolize the recent renaissance. While their tax dollars have helped to bring these projects to fruition, far too often these workers are not sharing in the district's prosperity."
The resolution was authored by
Council President Pro Tempore Mary Sheffield
, the granddaughter of famed Detroit labor organizer,
Horace Sheffield Jr.
In addition to advocating for higher wages because they'll help lift Detroiters out of poverty, the resolution argues that raising pay is also a smart investment for companies.
"There is a strong business case that can be made for paying workers a
decent living wage. Low wages for workers result in increased turnover rates, increased, absenteeism, and overall increased staffing costs."
The resolution also points to the Milwaukee Bucks arena deal as a "great blueprint for development that combines economic growth and community investment." The arena was subsidized with "only $250 million in public money," and will employ 1,000 people, with at least half of the permanent employees to be from zip codes with the highest poverty and highest unemployment rates in Milwaukee. The developers have also agreed not to interfere should the workers decide to unionize.
The full text of the Detroit City Council resolution is available
here
.
Stay on top of Detroit news and views. Sign up for our weekly issue newsletter delivered each Wednesday.