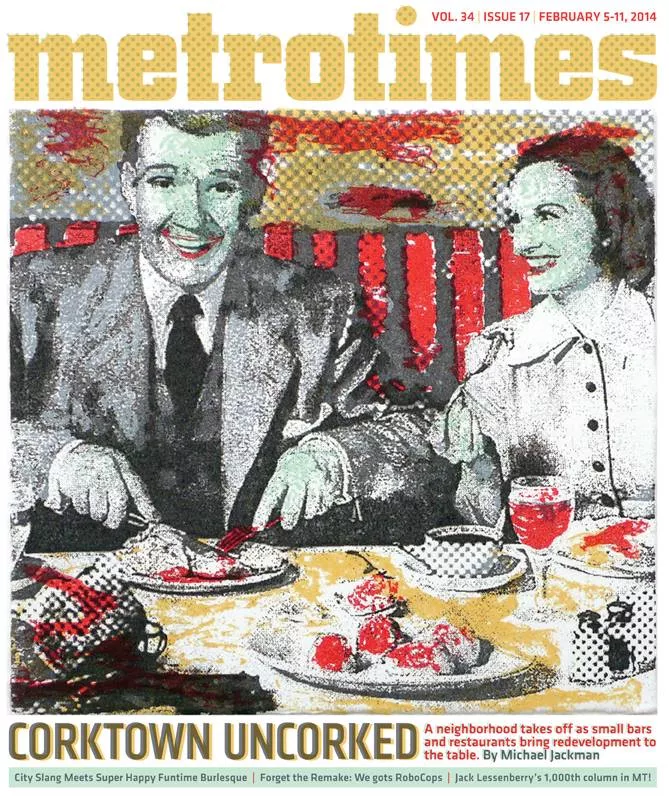 Bucket List Suggestions
Re: your article "100 Things You Must Do in Detroit Before You Die," I'd have two I'd add:
1) Attend Sunday morning service at Central United Methodist Church, or any downtown church. I don't understand how people can possibly feel they know Detroit if they haven't experienced its faithful inhabitants come together to pray, plead, protest, and just generally take care of each other and this City.
2) Have out of town friends and family stay at Ferry Street Inn — it always impresses. —Mary Eldridge, Ann Arbor

Jack at 1,000
Thanks to Jack for 1,000 "Politics & Prejudice" columns. Looking forward to a thousand more! —Marc Ahlquist, Troy
Become a Road Warrior
The Metro Times, Free Press, Detroit News and Macomb Daily and Oakland Press all agree that the roads need to be fixed. This has got to be a first!
Maybe the power of the press could be harnessed, by asking all of their subscribers to upload photos of dangerous potholes to Jack Brandenburg and the others in the legislature who refuse to even try to solve one of the state's biggest problems. The papers could provide links to the representatives' offices on their websites.
Constituents could be asked to send scanned copies of repair bills via email or snail mail to their elected representatives and senators, with copies to the newspapers. If all the papers kept a running tally, the true cost of all the car repairs to the taxpayers would be discovered. —Connie Kennedy, Clinton Twp.

Roosevelt Revisionism
In your Jan. 8-14 edition Jack Lessenberry wrote an editorial defending socialism that had more holes, false conclusions, misinterpretations, and general dishonesty than anything I have read in a very long time. It read like it was written by someone who was more interested in convincing himself. Lessenberry has absolutely no evidence that the New Deal saved capitalism, democracy or anything else for that matter. In fact many economists believe FDR's programs prolonged the Great Depression. And this belief is nothing new. Henry Morgenthau Jr., Roosevelt's secretary of the treasury at that time, believed so. Google his name and see what he had to say about it. It wasn't pretty. —Dave Barrett, Warren
We had a number of interesting posts at metrotimes.com in response to Michael Jackman's cover story about dining and drinking in Corktown. Tim Durand posted:
I worked in the Porter and Trumbull area during the early '70s and loved it, but the decline came rapidly in the late '70s and early '80s, until our company, like many others, relocated to the suburbs. We enjoyed going to Tiger Stadium, Hoot's, Nemo's, Porter Street Station, the Hummer and, yes, (Joe's) Green Dot Stables, among others. It was so sad to see the deterioration in the area, with many of those places closing.
How refreshing it is to see the rebirth every year when we start out on the Tour de Troit bike ride and see new businesses spring up each year. We patronize the old and the new in the area, and wish for the best for those who invest there.
ERRATA: We made a few errors, of commission and omission, in our cover story two weeks ago "100 Things You Must Do in Detroit Before You Die." Item 98 was about what is known far and wide as the "Hash Bash" in Ann Arbor. Somebody brought up a fine point but a fair one, the formal name of the event is the "Monroe Street Fair." Yup. We're betting that when Sunflower and Moonbeam start up the VW bus and head to Ann Arbor, it's the "Monroe Street Fair" they're headed to. Totally. Well, whatever you call it, the event returns to Ann Arbor April 5 this year.
Also, we got quite an earful on No. 40, about Lafayette and American Coney Islands downtown. We got our facts completely wrong about their founding, and were set straight by none other than American Coney Island's Grace Keros. American Coney Island is the elder of the two businesses, founded in 1917. Lafayette is the younger of the two, founded in 1924. Thanks to Keros for the correction, and we regret the error.
Finally, in last week's cover story about the rise of dining and drinking establishments in Corktown, we mentioned a local blogger, Slows server and neighborhood resident we met at Two James Distillery. We misspelled his last name. His name is Putnam Weekley.