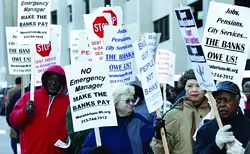 The drama surrounding Detroit's beguiling Chapter 9 bankruptcy trial in federal court was ratcheted up after an admission by the city's emergency financial manager that a declaration of insolvency was not necessary.
In testimony on Oct. 28, Kevyn Orr, who was appointed to the EM post by Michigan Gov. Rick Snyder, acknowledged under oath that during a pitch to creditors at a Detroit Metro Airport hotel on June 14, his intent to display the breadth of the city's financial state was an effort to cajole creditors into making concessions.
The testimony on day 4 of the trial to determine whether Detroit meets the criteria to enter into bankruptcy was filled with vitriol as Orr sparred with attorneys representing creditors, including Detroit's retiree committee, which goaded the EM into admitting he planned to violate the Michigan Constitution's protection for public pensions.
Orr, who reportedly refused to answer the question directly, said the state's emergency manager law "might have given me" the authority to pursue pension cuts under Chapter 9 bankruptcy.
Orr testified that before seeking Gov. Snyder's blessing to file for municipal bankruptcy, he had received only one serious counterproposal in the weeks after the ill-fated airport rendezvous with creditors – a letter from a group of insurers led by Ambac Assurance. He claimed unions made no offers.
Instead of seeking a bird in the hand, the city's creditors flooded Orr's office with lawsuits that the EM said made it near impossible to navigate through outside the judicial system.
"They wanted to sue," he testified, adding, "… The situation seemed to be growing more and more precarious and somewhat out of control. Nobody was coming forward; I was running out of time. It was clear to me there was going to be no other way to pursue a comprehensive and orderly resolution of the city's problems in an expeditious way."
Orr's testimony was set to conclude by mid-day, when his boss, Gov. Snyder, was scheduled to take the stand. Snyder had previously spent three hours being deposed on the events leading up to the bankruptcy filing. His testimony on the role he played in authorizing the largest bankruptcy filing in U.S. history also marks the first time a sitting governor would testify in open court. Court watchers said his testimony could last upwards of four hours.
Throughout his time on the stand, Orr delineated the long list of issues that precipitated the bankruptcy filing, including the much-publicized dilapidated street lighting system, untenable emergency response times and the pervasive blight that has plagued the city for decades. His testimony included how the city's electric grid has become so degraded that many insurers forbade private utility contractors from working on the system because it is in such a state of disrepair.
Orr also referenced a Skillman Foundation study that detailed the plight of Detroit's public school children and how they would pick up sticks and rocks to defend themselves from attackers while walking to and from school.
The EM acknowledged that a cashflow shortage also gave immediacy to the filing decision; the city reportedly had about $7 million in cash left by mid-June, prompting the decision to default on a $40-million pension debt obligation, which was due June 14.
"No one, on a serious basis, has ever disputed to me that the city is insolvent," he told Hon. Stephen Rhodes, the federal bankruptcy judge presiding over the hearing.
Regardless of the amount of cash on hand, the burden of proof is on the city to demonstrate its insolvency to Rhodes and that it meets the legal criteria to enter Chapter 9 bankruptcy.
Experts agree that the testimony by Orr and Snyder will play a critical role in persuading Rhodes to make the bankruptcy call. Whether Orr can convey his attempts to negotiate with creditors in good faith before the filing will also be crucial.
Several major creditors — including Michigan Council 25 of the American Federation of State, County and Municipal Employees; the United Auto Workers; Detroit's two pension funds; and Detroit retirees — have objected to the city's bankruptcy filing. They argue that the bankruptcy was a foregone conclusion and city officials made no serious attempt to negotiate.
Snyder has repeatedly stated that he approved Detroit's bankruptcy as a last resort. His opponents, however, have cried foul and claim the governor long planned to place Detroit in bankruptcy as a way to slash retiree pensions.
Bryan Gottlieb is editor in chief of Metro Times. Send comments to [email protected].