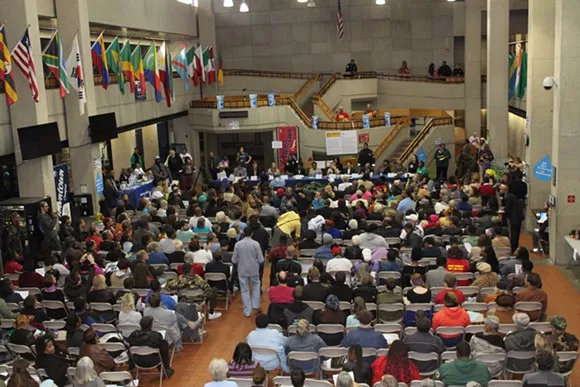 U.S. Bankruptcy Judge Steven Rhodes reaffirmed a decision he made to allow Detroit's water department to continue its aggressive shut-off campaign, saying he doesn't have the authority to stop the city from cutting off the tap.
In September, Rhodes denied a request to halt the water shut-offs brought forth in a lawsuit filed by a group
pushing for affordable water service plans
based on a resident's income. The group had asked Rhodes to reconsider the decision.
In the 24-page supplemental opinion, Rhodes considered both sides of the argument, determining that even if he found his court had the authority to weigh in on the issue, he still would've denied the request, saying "there is no constitutional or fundamental right either to affordable water service or to an affordable payment plan for account arrearages."
Interestingly, Rhodes issued a call to Detroit officials to examine the issue further, with a specific mention of Mayor Mike Duggan's 10-point plan. In August, Duggan
introduced the revamped plan to address how residents receive shut-off notices
, after Emergency Manager Kevyn Orr transferred authority of the Detroit Water & Sewerage Department to his office.
Rhodes, however, said it's unclear if the plan will be of "any long term benefit to the customers ... with insufficient income."
"Because the poverty rate in the City is about 40%, this is likely to be a large group," Rhodes wrote. "To address this need, the 10 Point Plan relies on a patchwork combination of charity and public funds. Unfortunately however, there has been no analysis of whether the available resources will be sufficient to address this need over the long term. Section 904 of the bankruptcy code forecloses to the Court the issues of whether and how to address this important and urgent need.
"Still, the Court urges the City to examine the issue with the sense of urgency that it deserves."
Earlier this year, DWSD launched an aggressive campaign to shut-off water service to customers with delinquent accounts, an effort unlike previous years. About 31,000 residential accounts who owed more than $150 or are 60 days past-due have facd shut-offs. DWSD says now 37,000 accounts have entered into payment plans, up from 17,000 at the start of 2013.
Read Rhodes' opinion below.