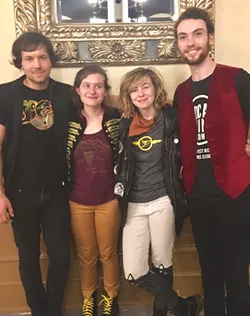 Detroit was well-represented in Austin, Texas last week at the South by Southwest festival, which now draws hundreds of thousands of attendees and performers from across the U.S. and from over 80 foreign countries.
Competition to showcase at SXSW is fierce, and Detroit and Michigan-based artists managed to snag a good portion of the coveted official slots and unofficial parties. The Accidentals, who signed a deal with Sony Masterworks earlier this year, made the biggest splash, with performances at seven different venues during the fest. Indie-pop duo Valley Hush made six stops around Austin during the festival, and Detroit rapper/vocalist Dominique Rhodes logged three performances.
The Michigan Music Showcase featured Detroit electro-blues-pop artists Flint Eastwood, along with Kalamazoo twang-rockers The Go Rounds, the Latin Jazz-dub-reggae-influenced OneFreq, and Detroit singer-songwriter Stef Chura.
Detroit Music Awards Foundation also made the rounds, representing and promoting Detroit at the BMI Acoustic Brunch, the Monster Energy House, Rachel Ray's Feedback House, and the SXSW Recording Academy/Grammys party.
Here's hoping that Detroit continues to make a big noise at SXSW!
Artists who want to register for official showcases in 2018 can submit starting in July:
sxsw.com