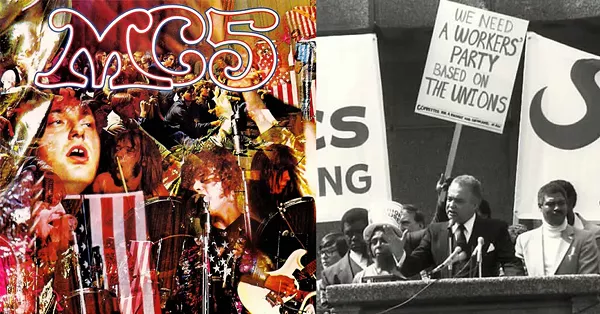 On Thursday, just hours after getting sworn into the 116th U.S. Congress, Rep. Rashida Tlaib from Detroit made headlines for saying, "We're going to go in and impeach the motherfucker!" about President Donald Trump.
A curious thing happened next. The remarks became a national headline, drawing forth both plenty of pearl-clutching and cheers of solidarity from pundits of all stripes.
One thing I noticed while reading Twitter was a divide in how Tlaib's reactions were met. National pundits, even Democrats, seemed aghast that a woman would use such language (apparently already forgetting that Trump has said far worse, including but not limited to calling Colin Kaepernick a "son of a bitch," calling Haiti and African nations "shithole" countries, and even when he himself called the Chinese "motherfuckers" in a campaign speech, etc., etc., etc.). People from Detroit, however, seemed bewildered that Tlaib's comments were so newsworthy in the first place.
Maybe it's because we know Tlaib. We know she can be blunt, and we know she has long called for Trump's impeachment. Earlier that day, the
Detroit Free Press
published a joint byline opinion piece co-written by Tlaib that
very soberly and solemnly laid out the case for impeachment
. Hell, even before Trump became president, Tlaib was forcibly removed from a campaign speech in Detroit for interrupting it, yelling that Trump needed to read the constitution. Tlaib's open disdain for Trump is hardly news.
But much of the reaction to Tlaib seemed to be less about the content of what she said (the very obvious reasons why Trump ought to be impeached) and more about apparently scolding a woman of color for using a swear word. Again, this seemed to bewilder the other people I know from Detroit.
Fifty years ago, the radical Detroit punk band MC5 recorded its debut album,
Kick Out the Jams,
for Elektra Records. On the title track, MC5 frontman Rob Tyner implores his audience: "Kick out the jams, motherfuckers!"
The lyric
drew swift backlash
. Detroit's big department store, Hudson's, refused to stock the record, and dropped the rest of Elektra's discs from its shelves. In response, the MC5 took out an ad in Detroit's anarchist paper,
Fifth Estate,
doubling down on the profanity. "KICK OUT THE JAMS, MOTHERFUCKER! and kick in the door if the store won't sell the album on Elektra," it read. "FUCK HUDSON'S!"
Just months after releasing the record, Elektra dropped MC5. No matter: the band was quickly signed to Atlantic Records, and went on to record two more albums. And MC5 wasn't just about a punk band saying offensive things. The band was a core part of the White Panther Party, a far-left collective that fought against capitalism and racism in solidarity with the Black Panther Party. Today, MC5 guitarist Wayne Kramer works with Jail Guitar Doors, which works to provide musical instruments and concerts to inmates in prisons across the country. This past year, the surviving members of the band reformed as MC50, and are still kicking out the jams, motherfuckers.
Kick Out the Jams
was recorded live at the former Grande Ballroom, Detroit's storied countercultural and rock 'n' roll haunt. The Grande is located on Grand River in Detroit — right in the middle of Tlaib's 13th Congressional District.
Years later, in 1973, Detroit would elect its first African-American mayor, Coleman Young, who ran a campaign on social justice and black power. He famously kept a placard on his desk that read "M.F.I.C." — short for "Motherfucker in charge." He even once greeted reporters from Hawaii by saying, "Aloha, motherfuckers!" Young went on to serve five terms.
(And just because I haven't seen anyone point this out yet: It's also worth noting that the phrase "ITMFA," or "Impeach the Motherfucker Already," originated in Dan Savage's syndicated sex advice column, which is printed here in the pages of
Metro Times
. It originally referred to George W. Bush in 2006, but was reintroduced in 2017 for Trump. You can buy it on T-shirts
here
. A portion of proceeds go to groups like the The ACLU, Planned Parenthood and the International Refugee Assistance Project.)
So sorry, national pundits: we sometimes say "motherfucker" here in Detroit, and a little backlash and finger-wagging won't stop the Detroiters who say it from going out and doing what they intend to do. Instead of clutching your pearls when you hear us say a swear word, listen to what we say — don't just get stuck on the way we say it.
One last thought: Before Tyner drops the profanity,
Kick Out the Jams
starts with a spoken word speech from MC5's emcee and hype-man J.C. Crawford.
"Brothers and sisters, the time has come for each and every one of you to decide whether you are going to be the problem or whether you are going to be the solution!" he says. "You must choose, brothers, you must choose!"
Fifty years later, this statement still rings true. And whether she was consciously aware of it or not, Tlaib is keeping the legacy of that statement, originally posed in Detroit, alive.

Stay on top of Detroit news and views. Sign up for our weekly issue newsletter delivered each Wednesday.