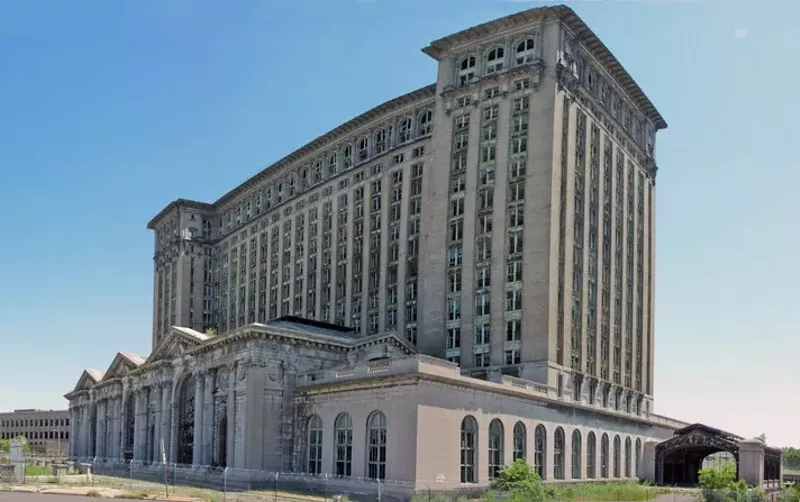 A coalition of Detroit community groups is urging Ford to return to the bargaining table and strike a more robust community benefits agreement as it seeks more than $104 million in city tax incentives for a planned Corktown campus. City council is to vote on the agreement and the incentive package Tuesday.
In a proposal unanimously approved by the Corktown Neighborhood Advisory Council (NAC) late last month, Ford agreed to put
$10 million
toward things like affordable housing and job training in exchange for the breaks it seeks. That's well below the $39 million worth of benefits the NAC presented the automaker.
Amina Kirk with the Equitable Detroit Coalition, a group that has spearheaded the fight for community benefits amid Detroit's giveaway-heavy resurgence, says a $10 million commitment from one of world's largest multinational corporations represents a drop in the bucket.
"Collective bargaining was invented in Detroit and we know Ford knows how to make a good-faith effort to meet the requests and needs of a community and come to terms that are a win for both parties," says Kirk. "For Ford to come back to the city for a new beginning and strip away that aspect of its relationship with Detroiters is not only disingenuous, it's disrespectful."
The total benefits, Ford and city officials say, will
balloon to $22.5 million
when the city leverages the funds to draw down additional money from federal and state sources. Ford presented the NAC with its offer just hours before the group was to vote on it, and no negotiation took place. The automaker has said it's up against an Oct. 16 deadline to have its incentive request approved in order to winterize Michigan Central Station ahead of a planned rehab. Ford is seeking a total of $239 million in incentives from local, state, and federal sources for the $740 million project.
Kirk's group, which in 2016 proposed a
strong community benefits ordinance
that came just short of winning voter approval, has been
advocating for amendments to the existing ordinance
that include lowering the threshold at which developers are required to strike CBAs and mandating that developers provide some level of benefits. Right now, developers don't actually have to agree to any benefits — a caveat that has led city council's Legislative Policy Division to recommend the ordinance be renamed the "Community Engagement Ordinance" to better reflect its scope.
But Kirk and other Equitable Detroit leaders say the Ford agreement in particular — one that every member of the NAC approved — highlights additional shortcomings in the CBA process. At issue is what they describe as city government's outsized influence on the agreements. For example, four members of the 9-member NACs are appointed by the city's Planning and Development Department, three are appointed by city councilmembers, and just two are directly elected by community residents. City officials are also responsible for helping NAC members navigate the community benefits process.
The arrangement, Equitable Detroit leaders say, often results in
agreements that ask too little of developers
. City officials, they say, have a vested interest in finalizing deals at almost any cost, and NAC members may be appointed with the idea that they'll represent the city or a councilmember's best interest. Equitable Detroit pointed to an example in the Ford negotiation process in which former city councilmember and NAC chair Sheila Cockrel, an appointee of Councilmember Janee Ayers, argued in favor of asking Ford for just $10 million in benefits, in light of the automaker's weak bond rating. Cockrel's urging came during a public session, prompting a community member to publicly ask her whose interests she was there to represent. Ford has $17 billion in cash on hand. The city of Detroit, as recently pointed out by the
Free Press
, had just $593 million at the end of last fiscal year. Cockrel could not immediately be reached for comment.
"There's a natural conflict in the fact that the city and developer have already begun working out their own contract by the time the NAC even convenes," Kirk says. "There's a problem with the city facilitating a process when its overarching interest is simply to bring the deal to fruition.
"The community benefits agreement is a subservient interest [for city officials] because it is second in time and it's not related directly to their jobs. Getting a strong CBA will not change the perception of whether the Planning and Development Department or the Housing and Revitalization Department have succeeded in their roles [to attract new investment]."
Ford has said it will bring 5,000 employees to the autonomous vehicle and electric technology facility it plans for Corktown by 2022. But Equitable Detroit has raised concerns about just who will capitalize on the job opportunities and how much the investment and added workers will benefit the city at large. Kirk believes Detroiters have yet to see the fruits of the city's revitalization, as the Duggan administration devotes significant incentives to the development of high-end housing, offices, and retail the vast majority of Detroiters can't afford.
"The way the city is being revitalized relies on a trickle-down economic theory and a planning theory that is outdated — that entertainment districts, and tourism in a city that is not known for that will be the tide that lifts all boats. It's an economic strategy that does not rely on residents that are here — it relies on outsiders," Kirk says.
"So with that in mind, the city being in charge of the [CBA] facilitation process is even more problematic. It's a mayoral administration that does not attempt to lift up the most vulnerable Detroiters, and instead says, 'We will target who we want to live here' instead of targeting those who already live here and ensuring through the CBO process that those residents finally do benefit form the money coming into the city."
Equitable Detroit has called for an independent third party with expertise in community benefits agreements to facilitate the NAC's negotiations. That provision, however, is not currently included in Councilmember Mary Sheffield's proposed
amendments to the ordinance.
"There is tension between getting [the agreement] done successfully and getting the most out of it, so I could see the benefit of an independent party," says Jerry Paffendorf, who was elected to the NAC. "But I definitely didn't feel like a tool in the process. I felt like I had the freedom to act and that everyone had a say."
Paffendorf added, however, that it helped to have groups like Equitable Detroit at public comment sessions to jumpstart conversations about "what's possible," because "if you're thinking too small, having people talking about asking for more, then that's helpful."
Stay on top of Detroit news and views. Sign up for our weekly issue newsletter delivered each Wednesday.