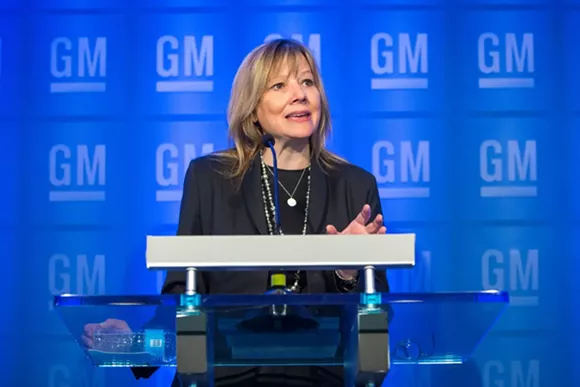 While speaking to reporters at the North American International Auto Show on Sunday, General Motors CEO Mary Barra defended the automaker's decision to produce a small volume of its Chevrolet Cruzes in Mexico.
"This is a long-lead business with high capital-intensive investments, decisions that were made two, three and four years ago," Barra said, according to the
Detroit News
. "When you look at the Cruze sedan, the Cruze sedan for U.S. consumption is being built here."
During his campaign, Trump threatened imposing a 35 percent tariff on vehicle imports from Mexico and has repeatedly badgered automakers who have Mexican production plants on Twitter. On Tuesday, Trump
inaccurately tweeted
a threat to GM for selling Mexican-made cars in the U.S.: "General Motors is sending Mexican made model of Chevy Cruze to U.S. car dealers-tax free across border. Make in U.S.A. or pay big border tax!"
In fact, GM builds the majority of its Cruzes — the popular sedan model — in Lordstown, Ohio. A small volume of its less popular hatchback version (2.4 percent of all Cruzes sold in the U.S.) are built in Mexico and imported because the profit margins on small vehicles are razor-thin.
Barra made the remarks at an unveiling event for the 2018 GMC Terrain, which she said will also be built in Mexico.
According to the
Detroit News
, Barra and Trump spoke following his GM tweet, but Barra declined to say what they talked about. Barra is expected to serve as part of an economic policy panel that will advise Trump.
Last week, Ford CEO Mark Fields announced the company will halt plans for a $1.6 billion Mexican plant
to instead expand operations in Michigan
, calling the move "a vote of confidence" in Trump. However, Ford is still moving its production of its small vehicles to Mexico.