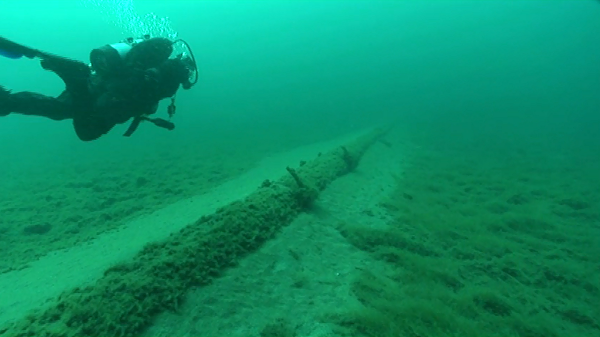 Gov. Gretchen Whitmer on Thursday issued an executive directive ordering all state departments to stop any activity related to an oil pipeline replacement project in the Great Lakes bed.
The move followed an opinion issued by Attorney General Dana Nessel that challenged the constitutionality of a GOP-supported law that created an authority to oversee the project, called Line 5. It was one of the more controversial bills that Michigan Republicans rammed through during December's lame-duck session.
The law created a Mackinac Straits Corridor Authority to work with Canadian oil giant Enbridge to build a $500 million, 4-mile-long tunnel 100 feet beneath the straits' bed. The tunnel will replace dual gas and oil pipelines originally installed in 1953 that run along the bottom of the straits.
The law was
approved in December
and the authority approved a new pipeline agreement before the Jan. 1 inaugurations of Whitmer and Nessel.
The opinion and Whitmer's order sets up a legal battle between the GOP-controlled Legislature and Nessel's office.
In her opinion, Nessel wrote that the Line 5 tunnel agreement was unconstitutional "because its provisions go beyond the scope of what was disclosed in its title." Because the law has been altered since it was passed, it's no longer "an extension of the main purpose reflected in the title," Nessel added.
The current pipeline has already
spilled 1.1 million gallons of oil
over the years. Critics say there's no need to replace the line because the infrastructure is in place to transport oil elsewhere, and the nation needs to wean itself of oil.
Critics also point out that Enbridge is responsible for a 2010 oil spill in the Kalamazoo River, which was the costliest inland spill in U.S. history and made worse when the company misread alarms and boosted oil flow for 17 hours. Since then, Enbridge has missed line inspections and downplayed damage to the pipelines,
causing former Gov. Rick Snyder to say
he was "no longer satisfied with the operational activities and public information tactics that have become status quo for Enbridge."
Still, Snyder and the GOP pressed on with the project.
In a statement, Enbridge Chief Legal Officer Bob Rooney said "Enbridge worked in good faith with the Michigan government on the tunnel project."
"We disagree with the Attorney General's opinion and continue to believe in the benefits of the tunnel," he said.
Stay on top of Detroit news and views. Sign up for our weekly issue newsletter delivered each Wednesday.