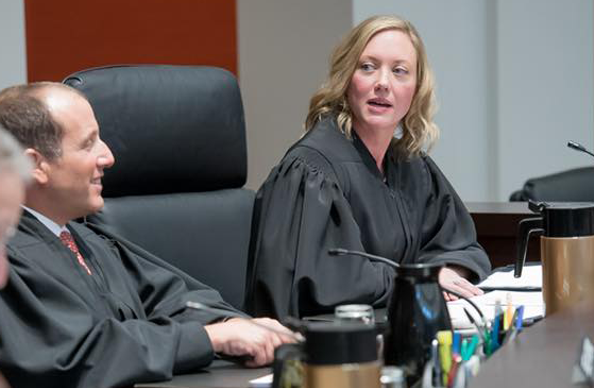 Some Democrats are coming to the aid of Republican-nominated Supreme Court justice Beth Clement as members of her own party turn on her for voting to allow a proposal to end political gerrymandering to advance to the November ballot.
Civil rights attorney Deb Gordon, a longtime contributor to Democratic candidates and Democratic-backed justices, recently held a fundraiser for Clement with a number of Detroit attorneys who also traditionally support Democrats in attendance.
Gordon says she was inspired to help Clement because she felt "galvanized" by the justice's decision "to put honesty and integrity above special interests." In voting against an effort to block the anti-gerrymandering initiative, Clement defied the powerful Republican-leaning Michigan Chamber of Commerce, which bankrolled the suit, even though the Chamber
helped facilitate a fundraiser for her this spring
. Clement also this week told the
Detroit News
she faced "bullying and intimidation" from "outside groups" in the run up to the vote.
"That is just such a breath of fresh air in our state and on the Michigan Supreme Court — that someone stuck with the courage of their convictions because they believed they were a servant first," says Gordon. "That says all I need to know about who I think is worthy of support and I'm willing to deal with whatever else she decides."
Under
the proposal by the non-partisan group Voters Not Politicians
, the task of drawing legislative districts would fall to an independent redistricting commission, rather than the political party in power. The initiative faced a lawsuit from a group backed by the chamber, which argued that the changes were so significant that they necessitated a constitutional convention rather than a vote of the people. In a 4-3 vote, the Michigan Supreme Court ruled the proposal could appear on the ballot as it did not "significantly alter or abolish the form or structure of our government, making it tantamount to creating a new constitution."
That vote — plus her vote to
allow school districts to ban guns
on school grounds — have cost Clement fundraising and other support from the Michigan Republican Party and right-leaning groups. Her name was
not included on party door hangers
promoting every other statewide Republican candidate, including Kurtis Wilder, the other GOP incumbent Supreme Court justice up for election. In a Monday interview with the
News'
editorial board
,
Clement described the move as "unprecedented." Separately, a conservative-leaning political consultancy in Lansing reportedly
stopped fundraising for her
in August. When the state Republican Party nominated her at its convention — following rumors she'd have to run as an independent — the
announcement was met with boos
.
Gordon declined to say how much was raised for Clement at the Sept. 20 fundraiser at her home in Birmingham, and Clement's campaign did not reply to requests for comment. At least two dozen donors were in attendance, "more than a handful" of whom Gordon says, like her, are attorneys who set their political leanings aside for a seemingly impartial Supreme Court justice — a rarity in Michigan's increasingly polarized judicial selection system. Clement also attended the event.

How did we get here?
Of course, interest groups and political parties likely wouldn't have the opportunity to influence or retaliate against Supreme Court candidates if it weren't for the partisan nature of Michigan's selection process.
While Supreme Court justice candidates are listed without party affiliation on the ballot, their campaigns are party-driven. The state Republican and Democratic parties nominate the candidates at their respective conventions, and interest groups and other donors
pour money into the races
.
It's an unusual way of doing things. In most states, Supreme Court justices are appointed rather than elected — sometimes via a nonpartisan judicial selection commission, the most highly regarded model, and sometimes through a process mirroring what's currently playing out on the national stage, where the executive selects a nominee the Senate votes on. Only seven states have outright partisan elections. Michigan is one of just two additional states where the election is technically non-partisan, but justices declare their party affiliation.
The system has been criticized by judges and legal experts from both sides of the political aisle as breeding "excessive partisanship" and "hiding the ball" from voters. In a 2012 report, the
Michigan Judicial Selection Task Force
wrote it "compels would-be candidates ... to compete for support from party insiders, who may prefer conformity to party ideology over devotion to the judicial qualities of impartiality, even temper, and intellectual honesty. These potential nominees must spend precious resources pursuing party loyalists' endorsements and funds from across the state, which strengthens the popular perception of the justices as partisan."
As for the veil over the political nature of the process, Wayne State University associate law professor Justin Long, who was part of the judicial selection task force, says it leaves the average voter "blind."
"Candidates for the court know where their bread is buttered, they know which party is supporting them, but the people don't have that indicator," says Long. "That tends to make them more susceptible to the increasingly creative and increasingly negative campaign ads that are often funded by out-of-state special interests. So if you don't know anything and you see an ad that says 'this justice was sleeping on the bench' you [may be more receptive to the message] than if you know the judge's party affiliation [that the ad might be an attack from the other side]."
In its 2012 report, the Michigan Judicial Selection Task Force issued a series of recommendations on how to bring transparency and integrity to the process. Some of the changes would have required legislative action, while other more modest improvements could have been made by the governor. But Michigan's legislative, executive, and judicial branches were then — as they are now — all led by Republicans.
Currently, Republicans hold a 5-2 advantage on the court. This November, voters will select two of four candidates listed on the ballot — two Republican, two Democrat. While Clement's chances might be diminished by limited support from her own party, she'll have an edge in that she will be designated as an incumbent.
Stay on top of Detroit news and views. Sign up for our weekly issue
newsletter
delivered each Wednesday.