A new attack ad by Democrat Elissa Slotkin shows she's not messing around in her bid to oust Republican Rep. Mike Bishop from Michigan's 8th Congressional District.
Drawing from the story of her mother's unsuccessful battle with cancer, Slotkin takes aim at Bishop for his vote to repeal the Affordable Care Act, accusing him trying "to gut protections for pre-existing conditions." In the 60-second spot, Slotkin says that when she saw Bishop
"smiling at the White House"
after last year's vote, "something inside me broke."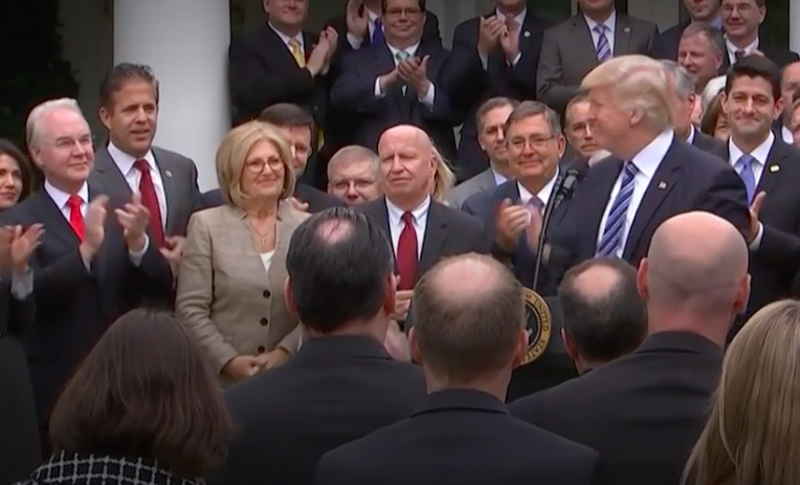 Bishop's campaign claims his vote was to strengthen protections for patients with pre-existing conditions, but according to the
Detroit Free Press
, analyses of the bill indicated it could make coverage more expensive for people with pre-existing conditions, particularly if they let their coverage lapse or resided in states with permission to base insurance premiums on more individualized circumstances. The
Free Press
also notes that Bishop voted to repeal the Affordable Care Act and its coverage of pre-existing conditions in 2015.
Michigan's 8th District runs from Rochester to Lansing, and is one of at least 24 districts Democrats are hoping to flip in November to regain control of the House of Representatives. The district has been represented by a Republican since 2001 and Bishop has held the seat since 2015. Numerous prognosticators have described the race between Slotkin and Bishop as a
toss-up
and one to watch for signs of a
"blue wave."
Slotkin lives on a farm in Holly where she grew up. She's a former CIA Mideast analyst and, in the ad, says she returned to Michigan to care for her mother after she was diagnosed with stage 4 ovarian cancer.
Here's a short bio on Slotkin from her Facebook page:
My family values led me to a life defined by service to others. And like so many Americans, the trajectory of that service changed on 9/11, and my career has since been defined serving my country. I was in New York City as a graduate student at Columbia University when the attacks happened. Immediately after, I joined the Central Intelligence Agency as a Middle East analyst. Within a year, I was trained and deployed to Iraq alongside the U.S. military and the State Department, doing my part to improve what had already become a complicated war. I became a member of President Bush's White House staff and was asked to stay on when President Obama took office. Throughout my career, I've been proud to work for both Republican and Democratic leaders who put the good of our country over politics. I plan to do the same in Michigan's 8th District by always putting the community's needs over partisanship.
Stay on top of Detroit news and views. Sign up for our weekly issue newsletter delivered each Wednesday.