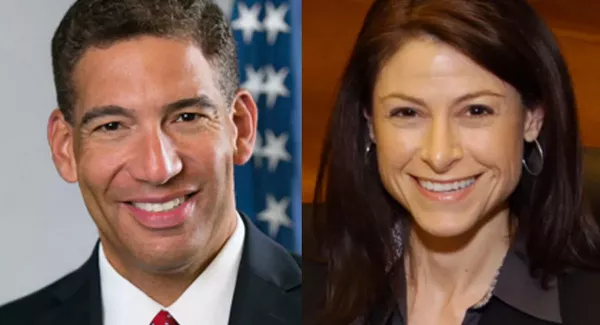 One of two leading candidates for the Democratic nomination for Michigan attorney general appears to be growing more progressive in his policy positions as he takes on an opponent who has been a vocal advocate for leftist causes. Early this month Pat Miles followed in the footsteps of opponent Dana Nessel when he came out in support of marijuana legalization after being tight-lipped on the issue. Last week, he seemed to also evolve his position on civil asset forfeiture — right in the middle of an interview.
Candidate Pat Miles was caught on tape by
Michigan Radio
saying he's OK with cops taking people's stuff before they're convicted, then apparently changing his mind to say law enforcement should freeze rather than seize assets. Civil asset forfeiture is a legal process through which police departments can take people's stuff if they're simply suspected of being involved in a crime, then pocket the proceeds. Sometimes, innocent people are able to get their stuff back, though it often requires a legal battle that can cost in excess of the value of the items seized.
"There are instances where asset forfeiture is very appropriate, where people are using the proceeds from criminal conduct in terms of, and they should be, that's what asset forfeiture is about," Miles told Michigan Radio. "So there are instances where it's appropriate to use asset forfeiture.
He added, "Before conviction. There are instances where it's appropriate."
By the end of the interview, Miles appeared to change his tune.
"We can go back to the asset forfeiture question if you want. I might have a better soundbite for you," he told reporter Lester Graham.
Miles went on, "I would say that on asset forfeiture, that we should make sure that there's due process before people's assets are taken and that in all cases that law enforcement is not allowed to unilaterally seize assets rather than freeze assets."
The reporter paused for a couple seconds before noting the shift and asking whether that was indeed Miles' position. The candidate said it was.
The position Miles came to mirrors that of his competitor, Nessel, an attorney who says she's fought to get assets returned to people who were never charged with crimes. She told Michigan Radio that, if elected Attorney General, her office would not use civil asset forfeiture, though she supports seizing assets if someone is found guilty.
Nessel calls Miles' apparent shift "profoundly disturbing."
"For a candidate for Michigan Attorney General to seemingly have such a limited understanding of such an important issue, or to have no concrete convictions regarding it, such that his opinion can be changed from one minute to the next, is profoundly disturbing," Nessel tells
Metro Times.
"Michigan does not need another attorney general whose actions are based on polling data or political expediency, rather than that which is right and just."
Miles' campaign offers an explanation for the apparent shift.
"There are a certain number of narrow cases where it's necessary, and that's what Pat was referring to in his initial answer," campaign spokeswoman
Jen Eyer says.
"As the interview went on, Pat continued to think about the issue and the fact that the general public isn't focused on those narrow issues. It's a very complex legal and law enforcement issue and it's difficult to digest in a two-minute radio clip."

Miles recently made headlines for another possible policy shift: on March 8, he came out in support for the legalization of recreational marijuana. Prior to that, the
Detroit News
reported Miles had taken a "hands-off" approach to the issue, saying only that he'd enforce whatever voters approve. Nessel has been vocal about her support for marijuana legalization and
recently won the backing of MILegalize
. She cast her opponent's shift as an attempt to score political points. Voters are expected to decide this November whether recreational marijuana use should be legalized in the state.
Nessel is best known for her role as lead attorney in the federal court case that led to the legalization of same-sex adoption and same-sex marriage. Miles is a former U.S. Attorney for the Western District of Michigan who was appointed by former President Barack Obama.
The Michigan Democratic Party will decide which attorney general candidate to support at its convention next month.

Stay on top of Detroit news and views. Sign up for our weekly issue newsletter delivered each Wednesday.