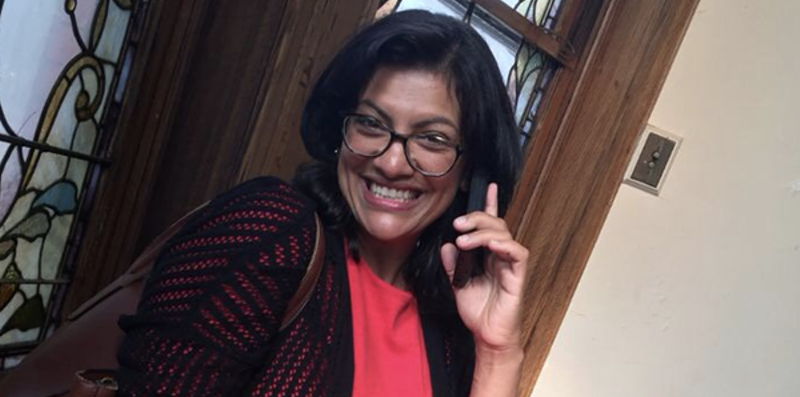 Progressive Democrat Rashida Tlaib — who is widely expected to become the first Muslim woman in Congress after winning last Tuesday's 13th District primary — lent her brand to another progressive Muslim female candidate facing a tough primary battle in Minnesota over the weekend.
Ilhan Omar, currently a Minnesota House rep, is running to replace progressive Keith Ellison, a former Bernie Sanders supporter who is running for attorney general in that state. Like Tlaib, Omar has earned the support of progressive groups, including the Sanders-aligned Our Revolution, Justice Democrats and others. Minnesota's primary is today.
In an email, Tlaib's describes Omar as "a Muslim woman like me," but says "our connection is more about our shared values: We both want to lift up underrepresented communities and voices, for the benefit of all Americans.
But on Tlaib's campaign stop with Omar on Saturday, that message was somewhat muddled by an Islamophobe who showed up to heckle the candidates. The woman, Laura Loomer, who is apparently is a Jewish alt-right personality (?), shouted at Tlaib and Omar about female genital mutilation and how they "hate Israel."
Tlaib took the heckling in stride, noting she recognized the woman as a stalker of sorts. She's heard in the video saying "I actually like people like her," perhaps in reference to Loomer's tenacity.
MUST WATCH: There are currently several JIHADI Congressional candidates w/ ties to Islamic terrorist orgs, including Ilhan Omar (MN) & Rashida Tlaib (MI).

They are campaigning w/ Linda Sarsour, who called for JIHAD against @realDonaldTrump.

This is a national security issue. RT pic.twitter.com/Y8mMsJnjLF

— Laura Loomer (@LauraLoomer) August 13, 2018
As Loomer promotes a video featuring her disruption and additional false claims about the candidates, including that they are "Jihadi," Tlaib is making plans for more campaign stops for progressive female candidates.
"We can't wait until January 3, 2019, to keep building the world we want," Tlaib says in an email.
Tlaib says she intends to start by promoting Gretchen Driskell, who is running for Michigan's 7th Congressional district. You can donate to Tlaib's effort to get more progressive women elected to Congress
here
.

Stay on top of Detroit news and views. Sign up for our weekly issue newsletter delivered each Wednesday.