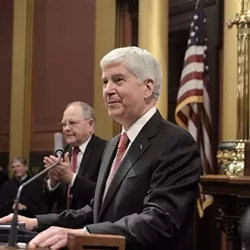 That's it for big long speeches by Governor Rick Snyder. And we have to be honest, we're pretty thankful. This one actually almost put us to sleep.
As expected, the governor's eighth and final State of the State was an attempt to string together a highlight reel that could put a sunny face on his two terms in office. The state's economy has rebounded, Detroit is
basking in the light of Little Caesars Arena
, and the Flint water crisis is a fuzzy object in the rearview mirror.
By listening to the myriad of positive data points highlighted by Snyder (Michigan reversed a yearly trend of job declines to add about 500,000 jobs during his time in office; the state leads the nation in manufacturing jobs) it was almost possible to forget that he was recently ranked the
fourth-most unpopular governor in the country
. Going into the night, a WDIV poll of likely 2018 gubernatorial election voters found
nearly half
possess an unfavorable opinion of him.
Snyder did describe a few final plans for the remainder of his tenure that may help to dig him out of that hole. Details of the "Marshall Plan for Talent" outlined in Detroit's Amazon bid and aimed to get young people ready for in-demand fields like computer science will be unveiled in February. There was also a vague promise of road repairs.
Raise the minimum wage to $15/hour so people working full time can afford a dignified life. #MISOTS18 #ForOurFuture

— Abdul El-Sayed (@AbdulElSayed) January 24, 2018
Not to mention @onetoughnerd touts job growth after passing Right to Work and working on prevailing wage repeal. Jobs aren't all worth the same, particularly if you cut and cut and cut workers' wages. #MISOTS18 #ForOurFuture

— Abdul El-Sayed (@AbdulElSayed) January 24, 2018
Stop "trickle-down" tax breaks for corporations and support the small business that create more and better jobs. #MISOTS18 #ForOurFuture

— Abdul El-Sayed (@AbdulElSayed) January 24, 2018
Also on Twitter, Democratic gubernatorial candidate Gretchen Whitmer noted that, by many metrics, Michigan isn't faring as well as the governor suggests:
We will be a successful state when we are a state of successful people. Michigan deserves better and I know we are going to get it. #WhitmerIsComing pic.twitter.com/OsLymH0Vo4

— Gretchen Whitmer (@gretchenwhitmer) January 24, 2018
Whitmer, who just received the backing of Michigan Education Association, indicated that if elected she would prioritize improving Michigan's education system. She also outlined plans to fight opioid abuse and protect the Great Lakes.
If we're going to TRULY solve the issues facing Michigan's education system, we need a governor that is not beholden to the DeVos agenda. In 2018 we can make that a reality. #MISOTS18 #MISOTS

— Gretchen Whitmer (@gretchenwhitmer) January 24, 2018
We've got to combat the opioid crisis in Michigan. Read my plan: https://t.co/CZDIbzjLtH

— Gretchen Whitmer (@gretchenwhitmer) January 24, 2018
The biggest threats to our Great Lakes are invasive species and oil. As governor, I will create the Department of Great Lakes and Fresh Water to PROTECT our most precious natural resource. We can be a world leader in water stewardship! #MISOTS18 https://t.co/xrxWcGyWHZ

— Gretchen Whitmer (@gretchenwhitmer) January 24, 2018
On the Republican side of the 2018 race for governor, Attorney General Bill Schuette took to Twitter to complain about Michigan's
actually pretty low taxes
being too high.
State of the Taxpayer in 2018: Family budgets have been slashed by billions…income tax hike...pension tax hike…auto insurance rates exploding…bills rising…It's time for a #paycheckagenda to create better paying jobs, cut costs & give a pay raise to Michigan families. #MISOTS pic.twitter.com/0qOwdkdC1r

— Bill Schuette (@SchuetteOnDuty) January 23, 2018
Conversely, Brian Calley, Snyder's Lieutenant Governor, said he'd stay the Snyder course:
Creating an environment that educates and trains skilled trade workers will attract and retain talent within Michigan. #ContinueTheComeback #MISOTS18 pic.twitter.com/88RIeekqoL

— Lt Gov Brian Calley (@briancalley) January 24, 2018
State Senator Patrick Colbeck is also running for governor on the Republican side. On the Democrat side, businessmen Bill Cobbs and Shri Thanedar have also entered the race. All three were quiet on the internet Tuesday night.