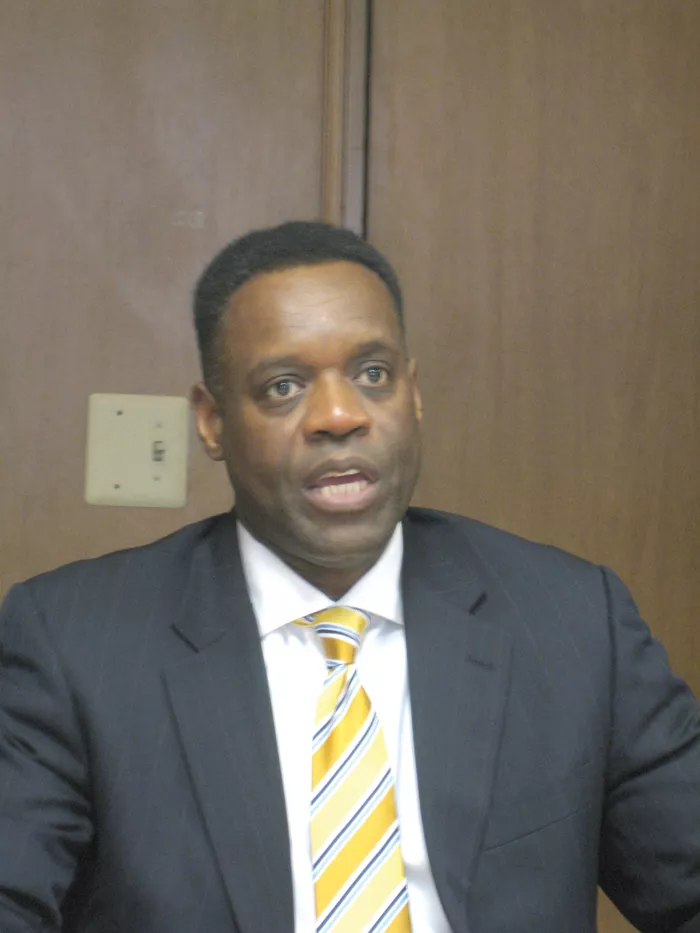 For Michigan municipalities and school districts that have fallen under the control of a state-appointed emergency manager, the road back to full-fledged democracy can be a long one.
Under the state's emergency manager law, an EM's term can come to an end after 18 months if a two-thirds majority of an elected local board votes for removal and the chief administrative officer — mayor, county executive, or school district superintendent — agrees.
Even when that happens, though, the return of full local control isn't a given.
Call it democracy-lite.
With regard to Detroit, it could be at least 13 years or more before local officials are given free rein in deciding how their city is run. The terms of how Detroit will be managed, and what it must do to eventually gain full autonomy, are spelled out in legislation passed May 22 by the state House. The legislation, part of the so-called "Grand Bargain" that would contribute $815 million — with the state expected to kick in $195 million while private foundations and the Detroit Institute of the Arts are slated to contribute a total of $450 million — to help alleviate cuts to the city's pensioners, must still be approved by the Senate.
Part of the plan includes a nine-member oversight commission, seven of whom would be state appointees. According to a nonpartisan analysis of the legislation, the commission, among other things, would have the power to:
"Review and approve the city's four-year financial plan; establish and maintain programs and requirements for the responsible fiscal management of the city; review and approve all applicable contracts, including all contracts for goods and services exceeding $750,000 or that exceed two years; approve or reject all collective bargaining agreements to which the city is a party after approval by the governing body and mayor …
"Also the commission could: review and approve proposed and amended operational budgets of the city, which could not take effect unless approved by the commission; approve the appointment of a qualified city's chief financial officer; review and approve requests by the city to issue debt; require the city to solicit competitive bids; review compliance with deficit-reduction plans; and review and approve or revise the city's consensus revenue estimate."
The amount of time that commission could remain in place is indefinite. It would, however, have the power to grant the city a waiver from "one or more" of its many obligations if it meets every item on a list of seven state-imposed requirements, including maintaining a deficit-free budget for three consecutive years. Another condition is obtaining a bond rating of A- or higher. As City Council President Brenda Jones pointed out during an appearance in Lansing as the legislation was being debated, Detroit, which now has junk-bond status, hasn't achieved a rating of A- since the 1960s.
Some experts, according to published reports, have predicted that it could take at least a decade and maybe even longer for the city to get its bond ratings to the point where it can completely get out from underneath the state's thumb.
"People are concerned that this could happen again, and so am I," state Rep. Al Pscholka (R-Stevensville) announced in a statement after the package of legislation passed the House. "That's why Detroit will be under state oversight for a minimum of 13 years — so the decades of mismanagement and corruption can end, and Detroit won't be impacting the borrowing and credit of all Michigan communities. We have a clear choice, and we must send a clear message — that this legislation is a final settlement between the city and the state."
At the other end of the spectrum is state Rep. David Nathan (D-Detroit), who had this to say after the legislation, which received broad bipartisan support, passed in the House:
"While the package does contribute $198.4 million to lessen the bankruptcy's impact on city retiree pensions, it also sets up an oversight committee that will essentially take over Detroit and trample over the city's democracy. As an elected official representing Detroit and its residents, I could not in good conscience support this package. The legislation that was voted out of the House … is a gross overreaching of the state into city affairs."
While Detroit is currently the focus of most attention, the question of how much local control might be allowed once EMs leave office isn't unique to the state's largest city.
For one thing, there's a provision in the EM law — formally known as PA 436 — that allows the governor to impose a model city charter on cities under an emergency manager, allowing for a complete overhaul of a municipality's governmental structure with zero input from the residents being affected.
Things haven't gone that far in Flint, where a panel appointed by that city's emergency manager has been meeting behind closed doors to discuss possible changes to the city charter there. Members of the so-called "Blue Ribbon Committee on Governance" have begun a series of three public meetings with city residents to go over their findings and receive input from residents before submitting a report to Emergency Manager Darnell Earley, who has the authority to determine what happens next.
From the look of things, the impetus is toward changing Flint from a strong-mayor form of government (which is what Detroit has) to one where day-to-day managerial functions are performed by a city manager, which is the way things are run in many smaller communities.
Whether residents would be allowed to vote on any such change is unclear.
In Pontiac, former EM Louis Schimmel granted new, far-reaching powers to the city manager he appointed as Schimmel's time in office was ending. Like Benton Harbor and Ecorse, which have both seen emergency managers come and go, a so-called "transition advisory board" appointed by the governor has been installed. Don't be fooled by the word "advisory," though. The board, in conjunction with the city manager, has the final say on all important fiscal matters.
With no budget for a staff of its own, the Pontiac City Council has effectively been sidelined when it comes to providing any of the checks and balances usually wielded by legislative bodies.
"It is hard for us to do our due diligence," City Council Member Kermit Williams said in a recent phone interview.
In his five years on the council, Williams has never known what it's like to enjoy the authority typically granted to an elected official, and he's not sure that day will ever come.
"After you have an emergency manager, they can just put something else in place so that you never have a true democracy," he says. "You can feel people's frustrations."
Curt Guyette is an investigative reporter for the ACLU of Michigan. His work, which focuses on Michigan's emergency management law and open government, is funded by a grant from the Ford Foundation. You can find more of his reporting at aclumich.org/democracywatch. Contact him at 313-578-6834 or [email protected].