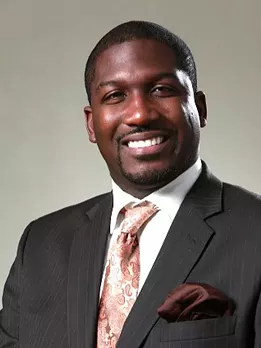 The new
Detroit Economic Growth Corporation
(DEGC) chief executive officer says an ordinance currently being prepared by Detroit City Council would "undermine [Detroit's] economic progress well before our recovery has hit critical mass,"
according to a report from Freep business columnist Tom Walsh
.
Over the summer, the council began preparing the ordinance, which calls for developers seeking subsidies of $300,000 or more to enter into a legally binding community benefits agreement with local groups. Such an agreement would require certain goals for hiring Detroit residents and awarding contracts to Detroit-based businesses. To Rodrick Miller, DEGC chief exec and president, it would be a terrible idea.
Miller tells Walsh, who is clearly singing the same tune as the DEGC chief, that an ordinance requiring CBAs "could create a red-tape nightmare, adding extra time and costs to each project — and potentially [introduce] corruption into the system."
Council President Brenda Jones' office has taken the lead in drafting the ordinance, a move Walsh says stemmed from the city's findings earlier this year that Marathon Petroleum fell well short of hiring Detroiters after it
received a $175 million tax break so the company could expand its footprint
.
Walsh reports that in a letter to council, Miller wrote: "We know from years of recruiting companies that Detroit still has big obstacles to overcome related to costs, image, and workforce to compete against other cities and our surrounding suburbs. We are, in effect, paying businesses to jump over the barriers they face: high taxes, questionable services, low adult literacy, blighted surroundings and negative perceptions. If we raise the height of the barriers with CBAs we will simply have to pay more in public incentives to get businesses to jump over them. We can't afford that. Isn't it more cost effective to lower those barriers?"
Says Walsh: Yes, lower the barriers!
Miller is asking the right question, raising the right issues in terms of regulatory policy.

It's an especially critical decision at this moment in time for Detroit.

Just as the city prepares to emerge from its historic Chapter 9 bankruptcy, just as Emergency Manager Kevyn Orr hands back the reins of power to Detroit's elected officials, this would be the absolute worst time to repeat the blunders of past city governments by making it more risky, more complex, more expensive to invest and do business here.
(More complex, you say? The city
seems to
relish the challenge
.)
In recent weeks, CBAs have been the center of the
negotiation over a land sale to facilitate the new Detroit-Windsor bridge
. Discussions for the new Detroit Red Wings arena near downtown over the last year also turned on whether the hockey team's owner, Ilitch Holdings Inc.,
would agree to a CBA
. The company didn't.
Francis Grunow, a member of the Corridors Alliance, the lead group on efforts to implement a CBA in the arena deal, says Miller is correct to question the CBA ordinance as a "one size fits all tool." But, Grunow adds, Miller should work with council to improve the ordinance so that it benefits everyone, and work to improve existing tools he feels Detroit is already equipped with that he makes reference to.
Miller understands that people advocate for CBAs because "they feel left out of the deal, when business gets incentives and tax breaks to develop," says Grunow, adding, "He's right to bring up how onerous development can be, and wanting to avoid the institution of more red tape."
But the "barriers" Miller refers to should not impact small- and mid-size development at all, Grunow says. CBAs typically arise for "mega projects" worth tens of millions of dollars, he says.
Citing the arena and bridge projects, Grunow says those examples are "all projects where there is significant impact and incentive, and are often associated with development interests who can easily 'afford' the extra 'effort' to constructively work with the impacted community."
"At the end of the day, it's not about making these projects more 'difficult' to create," Grunow says. "It's about having them land in communities that can meaningfully participate in their creation."
"Ideally, the benefit is everyone's," he adds. "Especially if there are significant public subsidies."