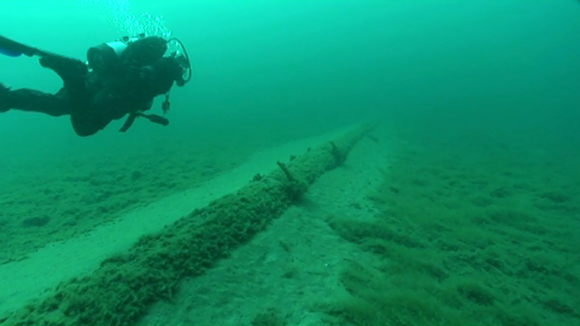 Shutting down a controversial 62-year-old Great Lakes oil pipeline owned by Enbridge, Inc. would not disrupt Midwest energy needs,
according to a report
released Monday.
Commissioned by Traverse City-based law and policy center FLOW (For Love of Water), the report was released in advance of the second public meeting of the Pipeline Safety Advisory Board, a state-appointed group tasked with analyzing the safety of Michigan's pipeline system.
Enbridge, Inc. have maintained that its Line 5 pipeline, originally built in 1953 and located at the bottom of the Straits of Mackinac, is vital to the energy needs of the Midwest. In last week's
Metro Times
feature story
about Line 5, Enbridge spokesman Jason Manshum said "rerouting Line 5 would be massively disruptive in many communities."
But according to FLOW's report, the capacity to meet the energy demand of the region exists in a larger pipeline system run by both Enbridge and its competitors, as only 5-10 percent of the crude oil in Line 5 goes to refineries in Detroit and Toledo (90 percent of Line 5's products go to Canadian refineries). Those products, the report says, could be replaced by oil from pipelines from the south, in addition to crude from Northern Michigan oil fields.
"We are urging the state advisory board to look at the big picture and consider the existing capacity in oil pipelines that go around, not through, the Great Lakes," says FLOW executive director Liz Kirkwood in a press release. "And while the studies proceed, the law requires that Gov. Snyder and Attorney General Bill Schuette take action to halt the oil flowing through the Mackinac Straits in order to protect the public trust uses of the Great Lakes, including for navigation, fishing, swimming, and drinking water supplies."
Concern over Line 5 has risen in recent years, following a rupture on Enbridge's Line 6B pipeline that led to the spilling of nearly one million gallons of oil in 2010 in the Kalamazoo River outside of Marshall, Mich. In the years since, environmental groups such as FLOW have called for the company to shut down its aging straits pipeline.
According to documents obtained by
Metro Times
through the Freedom of Information Act, the company removed more than 300 tons of contaminated dirt surrounding Line 5's pumping station in St. Ignace in 2011.
FLOW's
full report
is available from its website. Read
Metro Times
' feature story on the fight to shut down Line 5
here
.