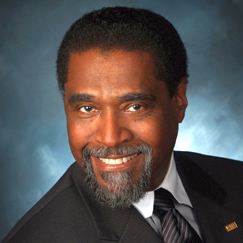 Darnell Earley testified today before the the U.S. House Committee on Oversight and Government Reform about his role in the Flint water crisis. As the city's Emergency Manager in April 2014, when the beleaguered city made the switch to the corrosive Flint River, Earley has long been viewed as a culprit in a tangled mess that allowed Flint residents to drink lead-contaminated water for months.
Well, today members of Congress finally got to meet the man and grill him (last month he declined their invitation and hinted that he would refuse a subpoena as well). Overall, the questions were on point and made Earley squirm, but there was one interaction that really stood out to us. When Rep. Ted Lieu of California's 33rd District spoke with Mr. Earley, the real issues of this crisis came to light.
One word: Leadership.
For so long, Earley has contended this was a water issue and
not
a leadership issue; he even wrote an
op-ed
in October entitled "Don't blame the EM for the Flint water disaster." Lieu's line of questioning, however, forced Earley to rethink this as he pointed out discrepancies in what Earley says he knew and when and what he should have known as the head honcho in Flint at the time.
More awesomely, Lieu got an apology out of Earley. While it did sound rehearsed and generally emotionless, the words "I'm sorry" did come out of the former emergency manager's mouth.
Read their conversation below — Lieu owns Earley.
Lieu: I read your testimony and heard it today as well. You essentially say everything was fine and everyone told you everything was fine and you had regular meetings with water treatment officials. Did you know that the water treatment plant operator Michael Glasgow wrote an email saying, "I have people above me making plans to distribute water ASAP, if water is distributed from this plant in the next couple weeks it will be against my direction." So it was not fine for Michael Glasgow. Were you aware of that?



Early: I was made aware of that email when I sat before the governor's task force. It was the first time I had seen that email. So I'm not sure who he is talking about when he says people above him. There were at least two other layers — one— possibly two other layers of supervision before it got to me.




Leiu: So even though you regularly, as you said, met with water treatment plant officials, you had no idea that the water treatment plant operator said I am not ready to go on this. You had no idea?




Early: No. There was no discussion of that in our regular meetings. What was —




Lieu: Stop right there. You also testified that this was not a leadership issue, this was purely a water treatment issue. I suggest that this was a leadership issue if you had no idea, even though you had regular meetings, that this water treatment operator was making statements that he was not ready to go. I'm curious. Mr. [Dayne] Walling [Flint's former mayor], I commend him for saying, 'I'm sorry,' and apologizing. That took courage. Mr. Earley, I don't see any according to your testimony — are you ready to say you're sorry?




Earley: What I've said, and will say again, is that you know I was responsible. It happened on my watch.




Lieu: Are you sorry?


Earley: I feel very badly about that and yes I'm sorry that the people of the city of Flint had to go through. I've said that earlier. This crisis, it tears me up inside. I'm very regretful and remorseful for what's happened.