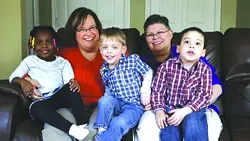 Dana Nessel has been an attorney in Detroit for nearly two decades, not one day of which has been spent making rich corporations richer. Instead, since emerging from law school, she's spent about half that time as an assistant Wayne County prosecutor, handling some of the grimmest cases.
Nessel has prosecuted domestic homicides, chop shops and those who raped children — or murdered children.
She has listened to more than you'd ever want to hear and has seen more than you would ever want to see. She has, for example, become recognized as an expert on brain damage caused by "shaken baby syndrome."
Some attorneys with that kind of experience become the sort of tough, lock-'em-all-up types who end up running for office, almost always as a law-and-order Republican.
But Nessel also went after rogue cops too: those who shot civilians unnecessarily or were responsible for the mysterious deaths of prisoners in custody. When she left the prosecutor's office eight years ago, she went into private practice, where she has become known as a defender of the downtrodden and, as her website indicates, a fierce defender of Constitutional rights.
Even after enough creeps to fill a lifetime, she is still an idealist — with an occasionally sardonic sense of humor. Though she is now older than Dr. Martin Luther King Jr. was when he was murdered, she too has a dream. "My dream is to live in a state as progressive as Kentucky," she told me the other day.
That's not because she has a great desire to keep her appliances on the front porch; it's because Michigan — our Michigan — not only outlaws same-sex marriage, but we also have some of the most bizarrely unfair adoption policies in the nation.
Hopefully, that may be about to change — in part because of a case she has that's won national notice.
You couldn't find a better example of how screwed up our system is than the case of April DeBoer and Jayne Rowse, two nurses who have been cohabitating as a couple for years.
They love children and have huge expertise in dealing with front-line medical problems. Rowse works in an emergency room. DeBoer is a NICU nurse (that stands for Neonatal Intensive Care, by the way). It's hard to imagine a couple more uniquely qualified to take care of special-needs babies.
On that, the state of Michigan agreed. They were certified as a couple to foster these infants and took in three within a year — premature, tiny babies with a universe of physical and mental problems. Two were not expected to live.
Today, 4-year-old Nolan and the two 3-year-olds, Jacob and Ryanne, are thriving. Rowse and DeBoer's medical knowledge is exceeded only by their hearts; they want to adopt these children, but the state said, absolutely not … why, that would be morally outrageous!
These women are, after all, lesbians. True, the state is willing to certify this lesbian couple as certified foster parents. True, these children might not even have survived otherwise; and nobody denies they are in a supportive, nurturing, loving home — but their adoptive parents are gay!
Only married couples and single people are allowed to adopt children in Michigan. The nurses attempted to solve that. Rowse legally adopted Nolan and Jacob, and DeBoer adopted Ryanne. But then, a close call made them realize something. If anything should happen to either parent, the other member of the couple would have no rights whatsoever to that woman's child or children. They would likely be taken away.
So they went to see Dana Nessel, who quickly realized the significance of the case. She also realized that the nurses, who live in Hazel Park and care for three special-needs toddlers, have next to no money. So she took it on pro bono.
Which meant, for the attorney, thousands of hours of labor, paid only by the knowledge that she might be helping to make a big difference in people's lives.
Nearly two years ago, she filed a federal lawsuit against those champions of corporate freedom, Gov. Rick Snyder and Attorney General Bill Schuette.
Schuette, a member of a common political subspecies known as the pander bear, filed a brief with wording that sounded straight out of European fascism. Naturally, he is against allowing horrid lesbians to adopt children. "One of the paramount purposes of marriage in Michigan … is and always has been to regulate sexual relationships between men and women so that the unique procreative capacity of such relationships benefits rather than harms society."
Or so sayeth Schuette. Well, I don't know what the legalese for WTF is, but I do want to see the license of the "sexual relationship regulator" who allowed Schuette's parents to breed. He or she may owe all of us a lengthy explanation.
The federal judge assigned to the case, Bernard Friedman, is no fire-eating liberal, either; Ronald Reagan named him to the bench. Yet, soon after DeBoer and Rowse filed their case, Friedman slyly suggested they expand the case to also challenge the "Michigan Marriage Amendment," the ballot proposal under which state voters outlawed same-sex marriage in 2004. Friedman then sensibly said he would wait to rule until the U.S. Supreme Court did.
Well, the highest court has ruled, moving in June to allow same sex marriages in California, and issuing a separate ruling saying that same-sex married couples were entitled to federal benefits. This has created all sorts of other problems, Nessel told me. Imagine same-sex couples living in Michigan who got married, say, in Massachusetts. They can file their federal tax return jointly — but not their state tax return, leading to a complicated mess at filing time, not to mention other issues.
Friedman at long last is about to return to DeBoer and Rowse's case. He is set to hear summary arguments from each side, two weeks from now, on the afternoon of Oct. 16.
What some are betting he will do is rule that Michigan's so-called "defense of marriage" amendment is null and void because of the U.S. Supreme Court decisions. Federal law, after all, always trumps state law. Hopefully, he'll throw out Michigan's discriminatory adoption code too.
That will undoubtedly be followed by appeals upon appeals, but the trend line is clear. Michigan is now one of only five states in the union that don't allow two parents of the same gender to be able to have any legal rights over children they've raised. Even Kentucky has allowed some same-sex adoptions and, historically, gives these kids a better deal than we do.
So here's hoping Dana's dream comes true, and that, when she wakes up on Oct. 17, she has no desire to move to Louisville.
Stunning Prediction
Virtually everyone knows that U.S. Rep. John Dingell (D-Dearborn) has been in Congress longer than anyone in history. First elected in 1955, he's now 87, still mentally sharp, and more respected than ever. Let's just say, however, I have more than a feeling this will be his last term.
Who will succeed him? I'd put my money on his wife, Debbie Dingell, a political player in her own right and — technically — one of my bosses at Wayne State University, where she is a member of the Board of Governors. If I am wrong about this, and I don't think I am, well, I may be waving to you in the guard hut in the parking lot across from my building.
Jack Lessenberry opines weekly for Metro Times. Send comments to [email protected]