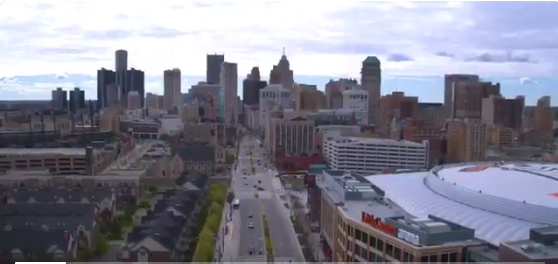 In case you haven't been paying attention, Dan Gilbert really, really wants Amazon to pick Detroit for its new North American headquarters.
When the news broke that Amazon wants to invest $50 billion into a city to build the new headquarters, almost every major American city raised their hands to say "pick me, pick me." In Detroit, Mayor Mike Duggan appointed Dan Gilbert to assemble a team to make the ultimate pitch to Amazon why Detroit is the perfect spot for #HQ2.
The campaign for Detroit seems to have started today.
Gilbert appeared on CNBC Friday morning
and said that he'd move his Quicken Loan employees temporarily elsewhere to make room for Amazon employees downtown. Mayor Duggan, also appearing next to Gilbert, noted that Detroit has the land to build 8 million square feet of office space.
Gilbert pushed the campaign even further today by tweeting the first promotional video for Detroit's bid for Amazon with the caption "Momentum breeds momentum."
The video shows the typical aerial shots of downtown Detroit, along with some of the more iconic buildings and locations like the DIA and the Ambassador Bridge to Windsor (another part of Gilbert's pitch is including Windsor in on the deal).
Momentum breeds momentum. #AmazonDetroit #AmazonHQ2 pic.twitter.com/AhMHOgmnWC

— Dan Gilbert (@cavsdan) September 29, 2017
The video also teases the date October, 19 with the slogan "The Story Begins." Turns out that's the deadline for Amazon HQ2 pitches.
Let the fun begin.