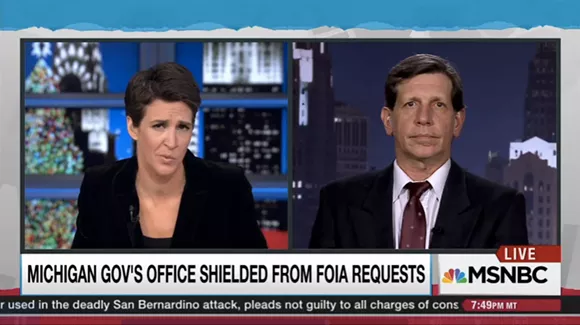 National coverage of the
lead-poisoning of Flint's water
continues.
On Wednesday, MSNBC's Rachel Maddow invited reporter Curt Guyette (currently of the Michigan ACLU, formerly of
Metro Times)
on her show
to learn more about how the scandal was revealed.
One of the biggest unanswered questions, Guyette says, is who knew what — and when. Specifically, investigators are trying to determine what role Governor Rick Snyder had in the decision to switch Flint's drinking water from Detroit's water system to the corrosive Flint River.
Guyette says in September, he interviewed Flint's former director of Public Works, Howard Croft. "At that time, they were still telling the lie that Flint was forced to use the river because Detroit kicked them off," Guyette says. But Guyette was able to show Croft a document showing that Flint's emergency manager rejected an offer from Detroit to use its water. "When confronted with that, he caved in, told the truth, and said, 'Well, we looked at the situation, an evaluation was made by the state to use the river because it was cheaper.' I said, 'Did it go all the way to the governor's office?' And he said, 'yes.'"
As Maddow points out, Michigan is one of only two states in the country where documents cannot be obtained directly from the Governor's office using the Freedom of Information Act. Guyette says he's trying to work around this by requesting documents from the State Treasury, the Department of Environmental Quality, and the city of Flint.
"It's sort of mystifying, but in all the FOIA documents that I've reviewed ... there's no discussion about the corrosively of the river before making the decision to switch," Guyette says. "Either they didn't do due diligence and look at the chemical makeup of the river to determine if it was safe — which would seem to me to be gross negligence to not do have done that — or they did do it, and decided to use the river anyhow."
According to Guyette,
Virginia Tech researcher
Marc Edwards says "anybody with even a rudimentary understanding of chemistry could've looked at the situation and in five minutes determined that the disaster that occurred could have been totally predicable."
Guyette adds: "So how the state could have allowed — actually, forced — the people of the Flint to begin using this dangerously corrosive river without knowing what it would do beforehand is unconscionable."
Watch the full video at the
official site
for the Rachel Maddow show. Maddow has also
set up a page
with various ways to help the people of Flint.