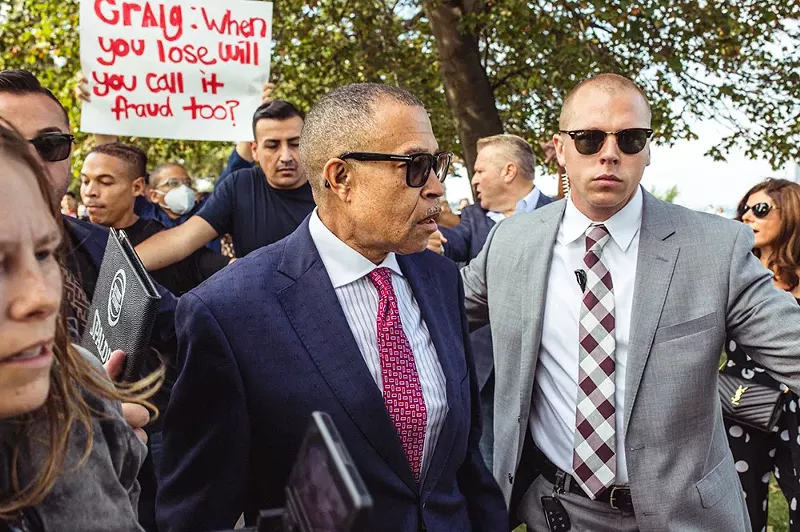 Detroit's news cycle was off to a roaring start this week with former police chief James Craig's "official" gubernatorial campaign launch, which didn't go exactly as planned. On the other side of the state, an emergency room doctor got attention for blaming Fox News for the rise in COVID-19 hospitalizations in the area. Beyond Craig and the pandemic, a legal dispute between a popular DJ and arts organization also generated a lot of interest.
Here's what our readers were clicking on this week:
10.
"Cannabis school is now in session in Pontiac"
9.
"Irrelevant comedian Jim Breuer doubles down on irrelevance, refuses to perform at metro Detroit venue over vaccination requirement"
8.
"Detroit police did nothing as neo-Nazis shoved me to the ground. James Craig should never be governor of Michigan."
7.
"Susan J. Demas: Republicans never had a COVID plan. They just wanted us to accept mass death."
6.
"James Craig's 'official' campaign launch in Detroit was a complete clusterfuck"
5.
"Alleged white supremacist accused of scouting abandoned jails in Michigan for 'hate camps' ordered to stand trial"
4.
"DJ Sara Aldridge accused of embezzling money from Detroit arts organization"
3.
"Woman who assaulted Muslim passenger on flight to Detroit should be charged with hate crime, group says"
2.
"Deputy wardens sue 'white dominated' Michigan Department of Corrections, allege racial discrimination"
1.
"ER doctor in rural Michigan blasts Fox News for spreading COVID-19 misinformation"
Stay connected with Detroit Metro Times. Subscribe to our newsletters, and follow us on Google News, Apple News, Twitter, Facebook, Instagram, or Reddit.