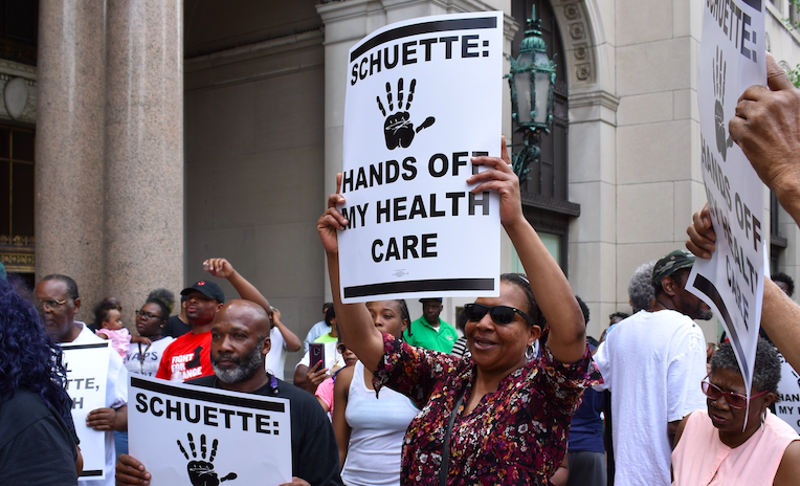 In case you missed it — a federal judge on Friday blocked Kentucky's new requirement that some Medicaid recipients show they've worked a certain number of hours in order to keep their health benefits.
The ruling could spell trouble for a recently passed Michigan law, which would require an estimated
540,000 Healthy Michigan enrollees
to prove they work 80 hours a month to keep their benefits.
In Kentucky's case, the judge did not rule on whether Medicaid work requirements were constitutional, but said that the state had not "adequately considered" whether the plan would "help the state furnish medical assistance to its citizens, a central objective of Medicaid."
Here's what the
Detroit Free Press
had to say about the broader impact of the judge's decision:
Boasberg's ruling Friday could slow the process for Michigan and other states considerably depending on what the Trump administration does next. It also means there could be court challenges made to other states' programs as they moved forward.

Angela Minicuci, with the state Department of Health and Human Services, on Friday said only that the agency will "review the ruling to determine how it may impact Michigan."

The
New York Times
reported that "although Judge Boasberg's ruling affects only Kentucky, advocacy groups will likely challenge other states' requirements and his decision could influence those cases."
The Centers for Medicare and Medicaid Services said Friday that it was conferring with the Department of Justice to determine whether to appeal. The case would be appealed to the Supreme Court, which is expected to soon lean more conservative, as Trump gets set to make his
second appointment in less than two years as president.


The federal government is involved because it must grant waivers to states who wish to make such changes to Medicaid. The
New York Times
reported Friday that Michigan had yet to submit its waiver.
In response to the Friday ruling, Kentucky Gov. Matt Bevin cut dental and vision coverage for nearly 500,000 Medicaid recipients in his state.
Stay on top of Detroit news and views. Sign up for our weekly issue newsletter delivered each Wednesday.