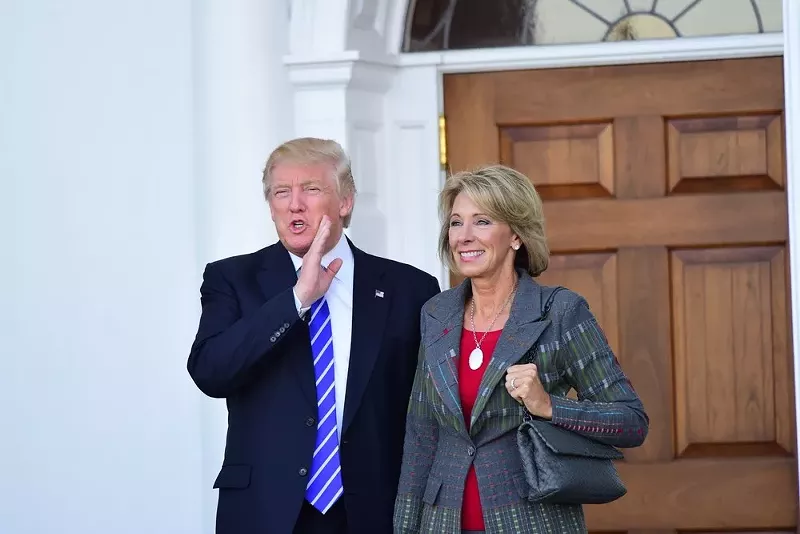 A federal judge has sided with students cheated by for-profit colleges, forcing Secretary of Education Betsy DeVos to forgive $150 million in federal student loan debt.
The move affects about 15,000 students whose schools closed or otherwise misled students. About half of the borrowers attended campuses owned by Corinthian Colleges, a chain of for-profit colleges that went bankrupt in 2015 after it was fined $30 million by the government for misleading students with inflated job placement numbers. The rest of the affected students attended schools that closed between Nov. 1, 2013, and Dec. 4, 2018.
DeVos is also being forced to carry out an Obama-era policy to implement tougher regulations to protect student loan borrowers — a policy which DeVos, along with for-profit colleges, had unsuccessfully attempted to kill, arguing that the rules were unfair to taxpayers because they made it too easy for students to wipe their debt. In October, a federal judge ruled that both attempts to kill the 2016 regulations were illegal.
According to
a press release
posted by the Department of Education, affected borrowers will start getting emails about the debt forgiveness on Friday.
Sen. Patty Murray from (D-Wash.) said the move was "a good first step, but it's not good enough."
"I call on Secretary DeVos to abandon her attempts to rewrite the borrower defense rule to let for-profit colleges off the hook and instead fully implement the current rule and provide relief to more than 100,000 borrowers who were cheated out of their education and savings," she said in a statement.
DeVos has
a possible conflict of interest
when it comes to student loans: Her family owns RDV Corporation, a company with financial ties to Performant Financial Corp., which was awarded one of two contracts by the Department of Education to collect overdue student loans.
In November, DeVos warned in a speech that the federal student aid program is a "looming crisis in higher education."
More than 44 million Americans
are saddled with nearly $1.5 trillion in student debt.
Stay on top of Detroit news and views. Sign up for our weekly issue newsletter delivered each Wednesday.