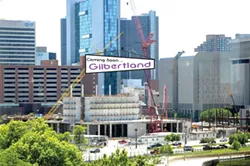 Kevin McNamara would like to be the next Wayne County executive. I know, because I heard him say that to Joe Harris, the former Detroit auditor, as we were all waiting to go be on Huel Perkins's "Let it Rip," one night last week.

Actually, it was Halloween, which was appropriate, given that we were there to discuss the latest deal cooked up by Wayne County's politicians to fleece the people. If you missed the last episode, here's a quick recap: We all learned last summer that the county's new jail would never be finished.

Seems that county officials decided to let the various contractors and subcontractors police themselves when it came to cost overruns. Eventually, spending got so out of hand that, last July, the county stopped construction with the thing half-done.

Cost to the taxpayers: A mere $155 million and not a dime of which they'll ever see back. If this were pre-war Japan, Wayne County Executive Robert Ficano and the commissioners who supported this boondoggle — failing to exercise any authority — would have been expected to commit ritual suicide. Other countries would have put them up against the wall. Civilized jurisdictions, of course, would issue indictments and impeach those who did this to the people who elected them.

But this is pay-to-play Wayne County, where the wheel never stops till the emergency manager arrives. Here's the latest: The county plans to sell the unfinished jail for $50 mill to billionaire Dan Gilbert, who has been buying up lots of Detroit over the past few years. However, Dan the Man doesn't just want the jail. He wants the Frank J. Murphy Hall of Justice — the courthouse — and some other buildings thrown in.

Nothing against Gilbert … he's done a lot to revitalize the city; and it isn't a businessman's job to practice altruism. But in this case, you'd think the county would negotiate and, at the very least, try to get more money.

Actually, more money is, or was, being offered. Triple Properties Inc., a Toronto-based firm, offered $100 million for the site. But a committee reviewing the bids decided no, they'd accept half the money from Mr. Dan. (The committee included such confidence-boosting names as Bob Newton, the jail project's manager.) When I asked McNamara about this, he mumbled something about Gilbert having the right of first refusal, which made me wonder, why take bids at all?

Was this like the process under which they accepted applications to head the airport, even though the fix was always in for the wretchedly underqualified Turkia Mullin?

According to Crain's Detroit Business, Gilbert's bid was selected because he now is the majority owner of the Greektown Casino. The casino owns some of the property the justice buildings sit on, including the half-built jail. (Huh? Wouldn't you think they'd build a jail on public land? Of course, but this is Wayne County, silly.)

Anyway, the casino has, the newspaper said, "the right of first refusal on two of the five justice properties." You would think, however, that "right of first refusal" would mean he got the chance to match or exceed someone else's bid.

But in Wayne's world, it evidently means Dan Gilbert gets what he wants — for whatever he wants to pay for it. Perhaps we should be grateful he was willing to pay more than a dollar.

There is the nagging little question as to what the residents of Michigan's largest county are supposed to do about a jail, a courthouse and other justice facilities? Not to worry, McNamara and his colleagues say. The latest plan is to take over an abandoned state prison, the Mound Road Correctional Facility, over on the east side of Detroit. They'd cram the judges and prosecutors, etc. in there too.

Never mind that virtually every major city has its justice facilities downtown, where everything from law enforcement to attorneys to bail bondsmen is conveniently located nearby.

Why does Wayne County government think giving up its property for a pittance — far less than they have wasted on it — is worthwhile? Ah, because Dapper Dan has shown them the pie in the sky. "He's gonna build an entertainment complex!" enthused McNamara, county executive wannabe.

Yes, indeed. Dan Gilbert says he's going to put in a $500 million extravaganza that will generate more than $20 million a year in property taxes! Why, Matt Mullin, the CEO of Gilbert's Rock Ventures LLC, says the project will be like L.A. Live in Los Angeles, which has the Grammy Museum, ESPN broadcasting, the Nokia Theatre, condos, hotels, restaurants and a partridge or two in a pear tree! Here in Detroit, Rock is talking 200,000 square feet of retail and parking, plus houses and hotels.

Incidentally, the Toronto firm promised even more, including a major-league soccer stadium and a million square feet of residential space. But this is Ilitch and Gilbert land.

Kevin McNamara and his buddies clearly love the thought of playing monopoly with Dan the Man, and can't wait to pass go and collect whatever their version of $200 is.

I confess, I stared hard into the sky outside the TV studio, trying to see the big pie, hoping it was blueberry. But all I could smell was money, most of it in the wrong pockets.

To be sure, there are a few dissenting voices. Ray Basham, a voice of integrity in Wayne County (as he was in the state senate), said they needed to know more first about why the jail project failed in the first place. As of last week, the commissioners haven't even been shown an audit report, he said.

But in McNamara-Ficano land, the county commission is expected to be a rubber stamp. McNamara the younger said they were supposed to vote on a preliminary proposal Thursday (Nov.7). He also admitted the commissioners weren't likely to get details about what was in it until the night before, something he blamed on Ficano.

Earlier that evening, I had listened while Joe Harris tried (unsuccessfully) to explain something about economics to McNamara, a former salesman with an associate's degree.

What I said on "Let It Rip" was that if Ficano and the county commission certified that the sun was shining, I'd know it was pouring rain, and that they were incompetent and corrupt. Later, McNamara minor told me he resented that.

I'm sure the poor citizens of Wayne County feel the same way.

Common Sense v Ambition

Jocelyn Benson has racked up more stunning accomplishments at a younger age than nearly anyone. However, she is now under a lot of pressure to risk sacrificing her whole career for nothing.

Benson is now interim dean of Wayne State University law school, and the youngest woman (36) to lead a major law school in the nation. She was nearly elected secretary of state three years ago, running far ahead of the Democratic ticket and losing only because of that year's huge GOP landslide.

She's written an excellent book and has a résumé that includes Wellesley, Oxford and Harvard Law School. But people are attempting to seduce her into a run for Congress against U.S. Rep. "Krazy" Kerry Bentivolio next year.

Benson is ambitious, talented and eager to help military families. But Democrats have already recruited a candidate in the district and her candidacy would split the party.

Bentivolio is being challenged by an establishment Republican, and whether any Democrat could beat even him in a non-presidential year is questionable. For Benson to give up a position where she can now make a major difference for a long-shot try at a minor role in Congress seems folly.