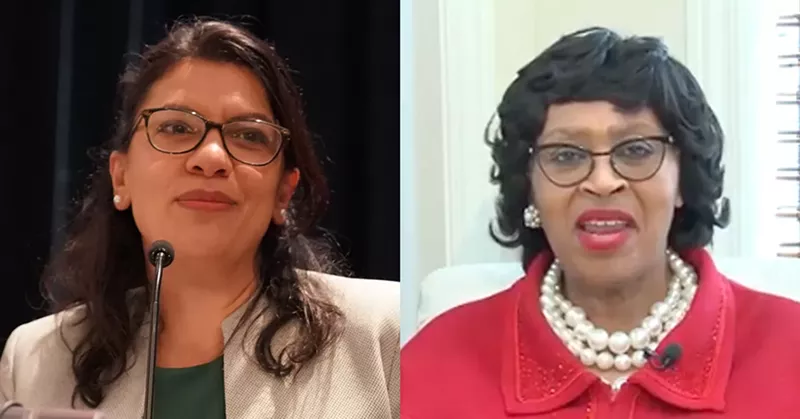 Detroit City Council President Brenda Jones officially announced Wednesday that she's going up against freshman U.S. Rep. Rashida Tlaib.
Jones, 60, was among a large field of Democrats whom Tlaib defeated in the primary election in the 2018 Democratic primary.
Tlaib narrowly beat Jones by fewer than 1,000 votes. Prior to that contest, Jones won a special election to complete former Rep. John Conyers Jr.'s term, spending five weeks in Congress.
In a video announcement from her home, Jones said she has a "three-pronged" strategy to improve life in the 13th Congressional District, which includes parts of Detroit and other communities in Wayne County, including Garden City, Highland Park, Inkster, River Rouge, Romulus, Westland, and Wayne.
"One, bring new resources to the district," Jones said. "Two, uniting the district. Three, focusing on issues that are important to the families and the people of the 13th Congressional District. The issues that impact us right here at home."
In the last election, Jones had the backing of Detroit Mayor Mike Duggan's formidable political machine.
But since Tlaib was elected, she has become a household name nationwide — thanks, in part, to her promise to
"impeach the motherfucker"
on her first day in office — and raised $1.6 million this cycle, bringing her campaign chest total to $2.8 million.
Tlaib is considered more progressive than Jones.
"Rep. Tlaib looks forward to running a strong campaign and winning re-election regardless of who is on the ballot, but at this time she is 100% focused on responding to the coronavirus and getting our communities and residents the resources they need to protect human health and our local economy," Tlaib's campaign spokesman Denzel McCampbell tells
Metro Times
. "Rep. Tlaib is hard at work pushing groundbreaking policies to make direct payments to all Americans to weather this storm, leading legislation to save state and local governments from financial collapse, and preventing utility shutoffs, evictions, and foreclosures."

Stay on top of Detroit news and views. Sign up for our weekly issue newsletter delivered each Wednesday.