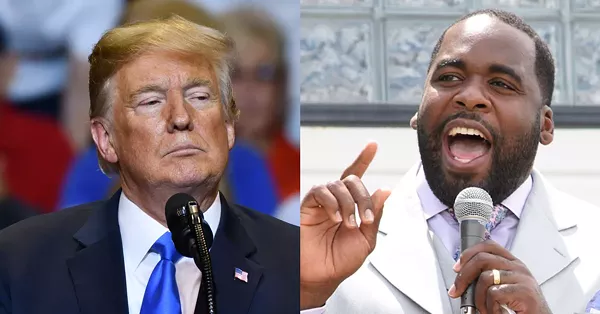 Perhaps President Donald Trump and former Detroit Mayor Kwame Kilpatrick aren't so different. Both are charismatic figures — Trump as a celebrity businessman, Kilpatrick as Detroit's former "Hip-hop Mayor."
But there's another crucial comparison to be made between the two men, according to Barbara McQuade, former U.S. Attorney for the Eastern District of Michigan. According to McQuade, the new probe launched by the U.S. Attorney's Office for the Southern District of New York into Trump's dealings looks a lot like the investigation that McQuade and her team of prosecutors led that landed Kilpatrick behind bars.
Writing an opinion piece for
The Daily Beast
, McQuade says the SDNY investigation appears to involve money laundering, fraud, and conspiracy —the very things that doomed Kilpatrick. The SDNY is seeking documents from Trump's inaugural committee, which brought in a record $107 million in donations, to probe whether those funds were used as part of mail fraud, wire fraud, money laundering, and violations of campaign finance and inaugural committee laws.
McQuade says the investigation reminds her of how she was able ensnare Kilpatrick with the Racketeer Influenced and Corrupt Organizations Act, or RICO, a statute passed in 1970 that made it a crime for a mob boss to direct underlings to commit crimes.
McQuade writes:
In Kilpatrick's case, he and others were charged with RICO conspiracy. The alleged enterprise in his case was an association of the former mayor, his father, a contractor, and certain members of his administration. The indictment alleged that the group constituted an ongoing organization whose members functioned as a continuing unit for a common purpose of achieving the objectives of the enterprise. Those objectives were to financially enrich the members of the enterprise, their associates, and their family members by extortion, bribery, fraud, and obstruction of justice.

"I have been asked before about whether the special counsel's investigation could result in RICO charges, and I have thought that RICO was a bridge too far," McQuade writes, referring to Robert Mueller's investigation into whether the Trump campaign colluded with Russia to interfere in the 2016 election. But now that SDNY could now be investigating Trump's inaugural committee and the Trump Organization, "the theory does not seem so far-fetched," she says.
Ironically — or, perhaps, not — Trump attorney and cheerleader Rudy Giuliani is very familiar with RICO, using it to great effect when he led the SDNY in the 1980s to take down crime family enterprises.
RICO violations could lead to penalties of 20 years in prison and forfeiture of the proceeds of the racketeering activity. However, Justice Department guidelines state that a sitting president cannot be indicted, and the statue of limitations for RICO is up to five years after the last racketeering act is committed. So if, say, the Trump Organization committed any violations after Jan. 20, 2016, "the statute of limitations would not preclude an indictment from being filed on Jan. 20, 2021, the moment a president is sworn in, so long as that president is not Donald Trump."
You can read the full piece
here
.
Stay on top of Detroit news and views. Sign up for our weekly issue newsletter delivered each Wednesday.