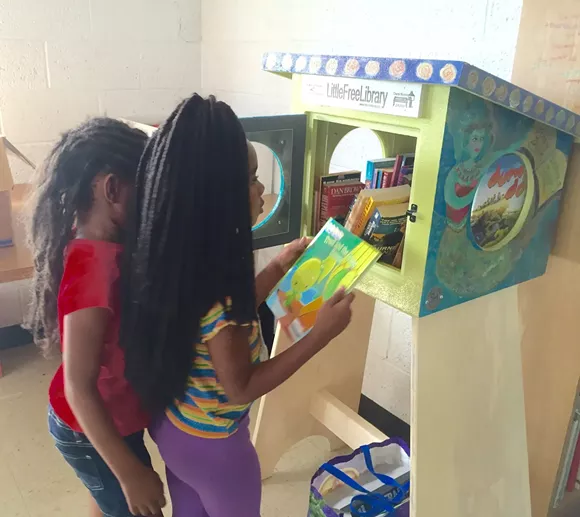 Little Free Libraries have become a nationwide phenomenon with their "take a book, leave a book" philosophy housed in tiny wooden boxes.
Detroit has been in on the craze, with Little Free Libraries slowly popping up all over city, and dozens more in the works.
One local group, Detroit Little Libraries, describes itself as a "grassroots campaign working in partnership with the Little Free Library to promote reading and community in Detroit through the take-a-book, leave-a-book movement known as the Little Free Library."
The Detroit Public School System is using the Little Free Library concept to make sure kids don't abandon reading by installing them in schools this summer.
The first official DPS Little Free Library was opened at Marcus Garvey Academy and the district has plans to install another 96, in partnership with with Detroit Little Libraries, Detroit Public Schools Foundation, Detroit Public Library and the national Little Free Library.
"The goal is bold, has never been done before and could become a blueprint for other school districts across the nation to circulate books among children," Kim Kozlowski, founder of Detroit Little Libraries, said in a press release.
So far, 27 of the remaining 96 DPS little libraries have been sponsored by members of the community. To help support putting a little free library in the remaining schools,
visit this website
.
The organization is working with a number of local partners to make get the project up and running around the city, and beyond. Teens working with Summer in the City painted blank Little Free Libraries, which will be planted around the city. Kids at Hatch Art's Hands On summer camp are also painting some of the blank libraries.
Local artists are also creating libraries that will be placed in Detroit community gardens this fall. The libraries will debut at the Michigan State Fair, where fair goers will get to vote on their favorites.
Little Free Libraries will be installed at Pewabic Pottery, the Conservatory on Belle Isle, Eastern Market and the Grace Lee Boggs Center in the coming months.
You can read more about the Detroit Little Free Library initiative
here
.