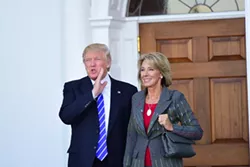 Officials are already preparing for the possibility of Secretary of Education Betsy DeVos abandoning her post in the U.S. Department of Education, according to a recent lengthy
Politico
profile.
The story paints a picture of DeVos' tumultuous first year on the job — which began with her
humiliating confirmation hearing
in which she demonstrated an apparent lack of even basic knowledge about public education. (She told
Politico
that she blames President Donald Trump's transition team for leaving her "undercoached.") Her controversial nomination required a tie-breaking vote from the Vice-President — a first in U.S. history. And it's been downhill ever since. Her public appearances have been met with
boos
and
protests
. Her Cabinet's senior staff slots remain unfilled. Morale in the department is reportedly "terrible."
But most importantly, DeVos has failed to get Congress to approve her Department's budget. And as
Politico
points out, it's likely not going to get any easier after the first year, which is "when there is traditionally the most political capital to spend — especially considering Republicans control both the House and Senate."
That's why many officials, according to
Politico
, anticipate DeVos not to make it through the full term.
"I'll tell you, in Washington education circles, the conversation is already about the post-DeVos landscape, because the assumption is she won't stay long," Thomas Toch, director of independent education think tank FutureEd, told the magazine. "I think she's been probably one of the most ineffective people to ever hold the job."
It may DeVos' frustrations with the limits of her role and department that cause her to resign. As
Politico
notes, "When it comes to the most contentious debates surrounding America's K-12 system — vouchers, standards, incentives, tests — DeVos had more tangible influence as a private citizen in Michigan than she does now in Washington."