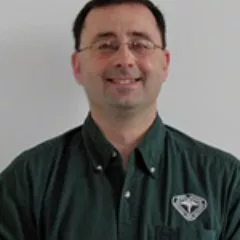 Lawyers of Larry Nassar, the 54-year-old former physician for the Michigan State University and U.S. Gymnastics teams, have filed two motions for resentencing in Ingham County on the basis of alleged court bias.
Nassar's lawyers argue that Judge Aquilina's now infamous threat —
"I just signed your death warrant"
— that she proclaimed during the case's original court proceedings served to demonize Nassar in the eyes of the public. Nassar was charged with 10 counts of sexual assault and three counts of child pornography after more than
150 women stepped forward
with victim-impact statements claiming sexual abuse. Nassar is now serving a 60-year federal prison sentence.
Within hours of arriving in federal prison, Nassar was assaulted, which lawyers argue was a result of Judge Aquilina's bias both in the court and to the press. For this, lawyers filed a motion seeking resentencing in Ingham County courts, as well as a second motion to remove and disqualify Aquilina from overseeing the case.
In 2017, Nassar pleaded guilty to 10 counts of sexual assault charges split between Eaton and Ingham County. Both Judge Aquilina and Judge Janice Cunningham of Eaton County gave
Nassar Michigan prison sentences of 40 to 175 years
and 40 to 125 years, respectively. The sentences are in addition to the 60 years that Nassar will already be serving in federal prison and came at the suggestion of the Attorney General's Office.
Nassar's court-appointed lawyers also intend to file pleadings in the Eaton County court system in the coming weeks.
Stay on top of Detroit news and views. Sign up for our weekly issue newsletter delivered each Wednesday.