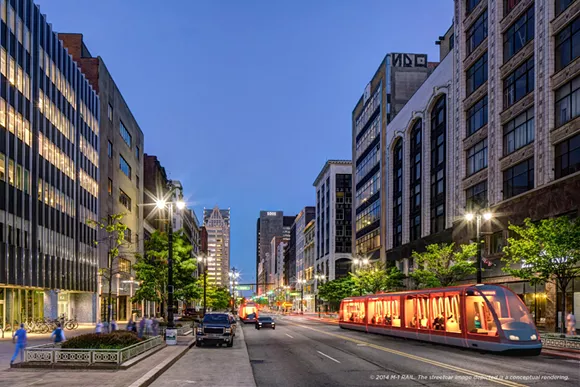 Construction of a $7 million technical center for the 3.3-mile M-1 Rail streetcar line should begin by the end of this year in Detroit's New Center neighborhood, according to a press release issued this week.
The facility, which will serve as a maintenance and storage center for the project's streetcars, will be located near the northern end of the line at Woodward and West Grand Boulevard. M-1 Rail says it's reached an agreement has been reached with a consortium of firms to design and build the facility, named the Penske Technical Center, including Turner Construction Company, 3.L.K. Construction, ABE Associates Inc., and RNL.
"This facility will be one of the first new construction projects in the neighborhood, and is a key part of the entire project," says Paul Childs, chief operating officer of M-1 RAIL, in a statement.
The M-1 Rail broke ground this past July. It expected to be
operational by Fall 2016
.