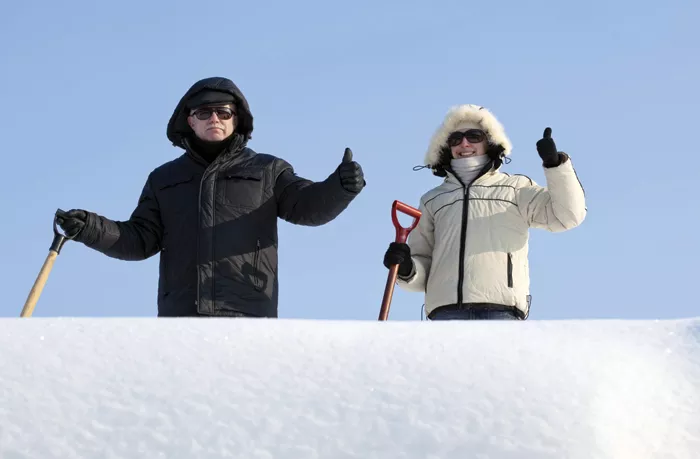 I looked out my window a lot the day after New Year's as snow fell throughout the day. My daughter figured it was a waste of a good snow day, as school was closed for the holidays. Undeterred, she and her friends ventured out to see a movie that afternoon.
I was trying to wait until it stopped snowing before I shoveled my walk. In the early afternoon, an enterprising young man rang my doorbell and asked if I wanted him to shovel my walk. I felt a little bad about turning him down, but I didn't want to give up the cash. It also forced me to put on my boots and get out there with a shovel and broom to clear the snow from both my sidewalk and my car.
My next-door neighbor to the south, Marvin, was already out there with his shovel and was nearly done with his place. I had been planning on shoveling his walk too. We've cleared each other's walks off and on for years, and he got the last snowfall; I figured this one was on me. I started shoveling the white stuff. Marvin moved on to shoveling the walk of his neighbor on the other side.
When I finished my walk, I looked over at the neighboring house to the north. The woman who'd lived there had moved out on New Year's Eve. The house was empty and nobody was going to shovel the snow there. So I figured I might as well do it — at least enough to let the mail carrier get by. I started digging a path as wide as my snow shovel. Then Marvin came over to help, so we cleared the entire sidewalk. Then we stood there and chatted.
"We might be shoveling in front of this house all winter," I said. "Nobody lives here now."
As we stood there, a car pulled up in front. A guy got out and introduced himself as the new owner. He was just coming by to make sure the place was secure. Wow! The house had been empty for all of two days. Getting it occupied right away was great. I had no idea that was going to happen. The woman who lived there previously didn't talk much. In fact, she worked some kind of oddly timed shift so we seldom saw her. We have a pretty good block club and community association. She'd never participated in any of that. She wasn't a bad neighbor; we just didn't know her. Actually, the owners before her had pretty much kept to themselves too. Maybe it's the house?
At the very least, I feel like I got off to a good start with this latest owner.
The woman across the street, Gwen, came out to sweep the snow off her porch. Gwen is one of the prime movers who put our block party together every August. Marvin went over to help her while I went on to the neighbor next to the empty house.
My neighbor Will, who lives there, had shoveled early and gone to work. It was late afternoon and it had been snowing all day, so I cleared it again. I took note that if this house were shoveled, then every house — all the way to the corner — would be clear. As I finished that one up, Will's wife leaned out the front door to thank me.
Then I headed across the street to help finish up Gwen's place. When I got over there, Marvin moved on to Mr. B's place. Mr. B is one of the elders on our block. He's lived here much longer than most of us. His wife passed away several years ago and we don't see him out much, except at the block party. Mr. B opened his door to say that he had someone coming to take care of the snow.
"When he gets here, talk about him," Marvin said with a laugh, suggesting the guy should have already taken care of business. I went over to help Marvin finish up. Mr. B opened his door again to thank me.
As we were getting the last of that sidewalk cleared, the son of another neighbor showed up with his snow blower to clear his parents' house. He did the front walk of another neighbor who was at work to finish up another stretch of several houses in a row with clear paths.
We all stood out there and talked for a few minutes. You know, it didn't even feel cold — standing there, exposed in the wind and blowing snow — because the community and conviviality of the moment warmed us.
During a time of year when we're usually wrapped up securely inside our houses, it felt like a mini-block party with neighbors standing around outside talking to each other. It's the kind of thing that happens in the spring when people begin venturing out into the sun and warm weather.
"You guys are the best neighbors in the world," Gwen said as we separated to go back inside.
The Robert Frost poem "Mending Wall" makes the assertion that "good fences make good neighbors." Maybe a snow shoveling party makes good neighbors too. It worked for me.
It was the second day of the New Year, and I was feeling pretty good about things. The house next door wasn't going to be empty for long. That's a blessing.
As Detroit moves forward in the next year, there are bound to be problems related to the bankruptcy the city's going through and a new mayor trying to get a handle on things. As residents, we'll be able to affect some things while other things will bedevil us.
One thing that will make a difference in our quality of life is our relationship with our neighbors. If we have good relationships we'll look out for one another. Looking out for one another will create a power to make a difference in the city beyond anything done from above — by an emergency manager or a mayor.
Maybe good fences make good neighbors, and maybe shoveling snow together achieves the same goal. One thing I'm convinced of is that good neighbors make a great community. That's what I want. Help each other get through the winter and all the snow. In the spring help each other clean things up and plant some gardens. We'll all be better for it.
It's Sunday afternoon and there's a lot more snow out there to shovel — with more to come. I've already shoveled today with another neighbor, Frank. I'm beginning to wonder where we'll put all the snow this week. While out there I saw Will introducing himself to the new neighbor. Here we go again.
There's a software program called Nextdoor that somebody set up for our neighborhood. It's a community resource. Someone has already posted on it that he's willing to come out and shovel snow for neighbors. Maybe we'll get through this in good shape.
Speaking of great community, the reports on crime came out last week showing that homicides and violent crime were down in Detroit in 2013. I want some more of that too, in 2014.