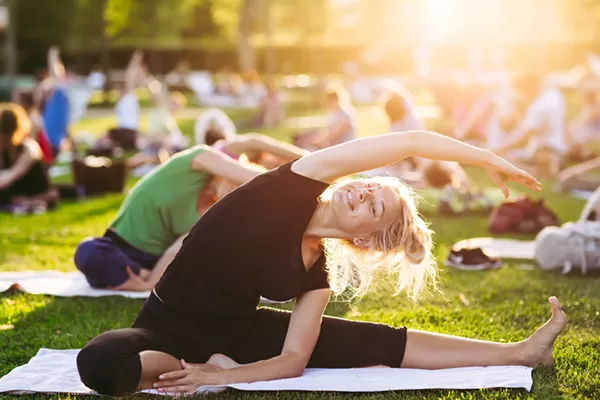 The
yoga scene in metro Detroit has been heating up
over the last few years, with studios opening in suburbs as far south as Riverview (trust me honey, this is a big deal) and special yogic exercises taking place at Movement Electronic Music Festival and inside the Max M. Fisher Music Center, among other unique locations.
Now, metro Detroit yogis have the chance to experience their practice in an entirely different setting: Comerica Park.
The Tigers organization will host an hour-long yoga practice on Sunday, August 6 from 9 to 10 a.m. taught by Raina Nemeth and Martin Kelln, both of whom are owners and teachers at the Yoga Garden in Beverly Hills.
Yoga in the Outfield, as the event has been dubbed, will only be available to those who purchase a special ticket that also includes a Detroit Tigers-branded yoga mat as well as a single ticket to one of four games during a series against the White Sox in September.
So, to be clear, the yoga practice and the game will take place on separate days, about a month and a half a part from one another. The ticket cost is $40, but amounts to just under $50 with taxes and fees.
For more info,
click here.