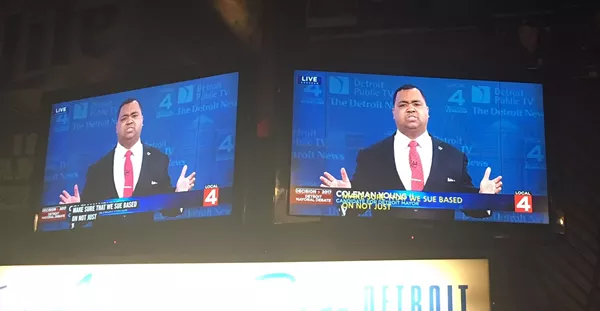 OK, stay with me here. Coleman Young II is Donald Trump. Mike Duggan is Hillary Clinton.
Sure, the analogy isn't perfect. The Detroit electorate has little in common with the "Make America Great Again" red hat-wearing populist uprising that elected Trump in a surprise upset last year, and as a Senator, Young has far more experience in government than Trump ever had. But both candidates exhibited such tendencies last night during the one and only televised debate before Detroit's upcoming mayoral election on Nov. 7.
Like Clinton, Duggan is a popular, well-connected candidate who is widely expected to win in November — despite the specter of scandal. For Duggan, the looming federal probe into the city's demolition program could be analogous to Clinton's vague and ultimately unsubstantiated email drama.
Young, like Trump, has a widely recognizable brand name — in this case, as the son of Coleman A. Young, Detroit's first black mayor. Like Trump, the younger Young is running a campaign geared toward "the forgotten man." For Trump, that was Rust Belt whites. For Young, that's "the neighborhoods" — or Detroit's largely African-American population that might feel left out of the revitalization of downtown and Midtown.
During Wednesday night's debate, Young made several overtures for such voters, and made some valid points about their plights — joblessness, violence, and mediocre public transportation chief among them.
But like Trump, Young seems to have a penchant for what the president's administration generously refers to "alternative facts." Maybe Young was being a Trump-esque showman, or maybe he merely slipped up on TV. Regardless, he made some claims that don't hold up under scrutiny.
Young repeatedly hammered Duggan for admitting to "bid rigging and colluding on television," a reference to
a 2015 interview with Fox 2's Charlie LeDuff
regarding the city's demolition contracts. To say that Duggan admitted to guilt on TV during the interview is a stretch. "It was a negotiated price, there's no question about it," Duggan conceded, but when asked if it he considered it collusion, Duggan denied it.
Young also claimed Duggan had to pay $30 million as part of a federal investigation for violating kickback laws while at the Detroit Medical Center, where Duggan served as president and CEO between 2004 and 2010. In fact, there was never a criminal investigation of DMC;
the company disclosed the violations itself
as it prepared to be sold to Vanguard in 2010.
At another point, Young blamed Detroit's poor public transportation for Detroit losing the bid for Amazon's second headquarters. "The reason Amazon didn't come here was because we did not have serious mass transit," Young said. In fact, the bid was submitted to the e-commerce giant
just last week
, and Amazon has not yet chosen the site of its much ballyhooed HQ2.
Then there's Young's plan to improve Detroit's public transit system — with a high-tech magnetic aerial rail system known as Skytran. It's a futuristic idea to be sure, but — at least at this point — purely science-fiction: while a number of cities have considered it, Skytran currently doesn't exist. (Although Israel
is reportedly considering
such a system.)
Continuing on the public transit beat, Young accused Duggan of being part of a "mass transit authority up in Lansing; he tried to push this bill, and the only thing they got out of it is something that goes 3.3 miles," in reference to the QLine. In fact, the QLine
had its origins in the private sector
, and earned federal grant money under President Barack Obama.
Eventually, Young even accused Duggan of holding an office in Little Caesars Arena, but at this point in the debate, it was hard to tell if Young is being sarcastic or not — although if he was being sarcastic, that is kind of funny.
Whether Young is just Trumpian enough (his closing remarks: "It's time to take back the motherland") to disrupt the November election is another question entirely.