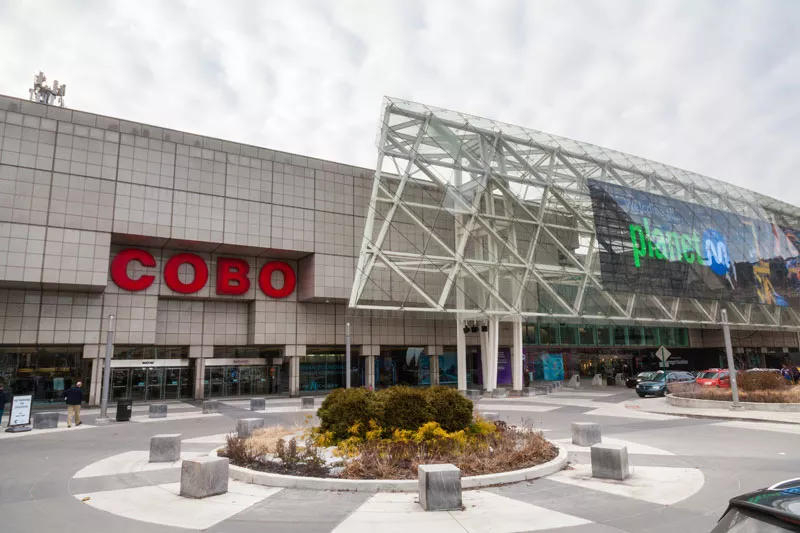 Detroit's premier convention hall, Cobo Center, will no longer be named after a racist mayor who pledged to remove black people from white neighborhoods.
The announcement was made Wednesday morning in a press conference held by Gov. Gretchen Whitmer, along with Detroit city officials and the Detroit Regional Convention Facility Authority. It follows months of speculation that a name change for the convention center was imminent, including
a November report
that the DRCFA was in the final stages of negotiating a seven-figure naming rights deal.
The new name will be TCF Center, pending approval from the Chemical Bank and TCF Bank's merger.
Home of the North American International Auto Show, the center was originally named after Republican Albert Cobo, a corporate executive, real estate investor, and segregationist who served as mayor of Detroit from 1950 to 1957. He campaigned on a platform of "Negro removal," which was a pledge to force black people out of predominately white neighborhoods. Cobo denied federal funding for black housing projects, and when the city's Civil Rights Commission called him out, he disbanded the board. He also dismantled the city's public housing program and forged a close alliance with anti-civil rights activists and white neighborhood associations.
Under Cobo, the construction of highways decimated Detroit's historic black communities, Black Bottom and Paradise Valley, in 1956.
Although Detroit was overwhelmingly Democratic in the 1950s, Cobo was elected to three terms and served until he died in office in 1957.
"The Cobo era was marked by the wiping out of African American neighborhoods in the name of urban renewal," Mayor Duggan said. "I don't believe our civic center with its name should be celebrated here."
Changing the name of Cobo Center comes amid a national movement to rename and remove Confederate monuments following a violent clash over a statue of Robert E. Lee in Charlottesville, Va. in 2017. That year, Duggan ignored calls by local activists to remove a Christopher Columbus statue from downtown.
Chene Park, named after slaveowner Charles Chene,
was renamed
after singer and civil rights icon Aretha Franklin following the Queen of Soul's death last summer.
Stay on top of Detroit news and views. Sign up for our weekly issue newsletter delivered each Wednesday.