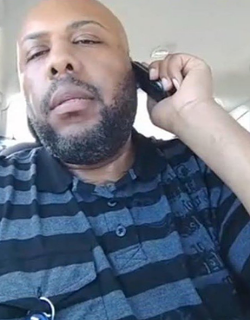 Updated: 12:15 p.m. Tuesday, April 18:
Stephens has killed himself in Erie, Penn.,
according to police
.
Originally posted Monday, April 17:
Sunday afternoon a Cleveland man named
Steve Stephens allegedly uploaded a video to Facebook
that shows him shooting and killing 74-year-old Robert Godwin Sr., and police have been searching for him ever since.
The video has caused a social media uproar in according to our sister paper, the Cleveland
Scene
, with people reporting to have spotted Stephens in various locations while alleging he's on a murderous rampage.
Police have been scant with information, but
Scene reported this morning
that there have been no new victims and as of right now, they have no idea where Stephens is, saying he could be literally anywhere.
According to
Scene:
"Police confirmed that they spoke directly with Stephens shortly after the shooting yesterday, but, beyond that, there has been no contact with him. Chief Calvin Williams said that police searched dozens of locations in Cleveland last night and conducted operations 'unceasingly' since the shooting."
According to
Cleveland.com
, police say Stephens could have crossed state lines. Cleveland police have warned residents of Michigan, Pennsylvania, New York, and Indiana to be on the alert.
Stephens is 6'1", 244 lbs. with a beard and was last seen wearing a dark blue and grey or black striped polo shirt. He is driving a white Ford Fusion with a temporary license plate reading: E363630, according to police.
Police are asking all credible leads be reported to 1-800-CALL-FBI.