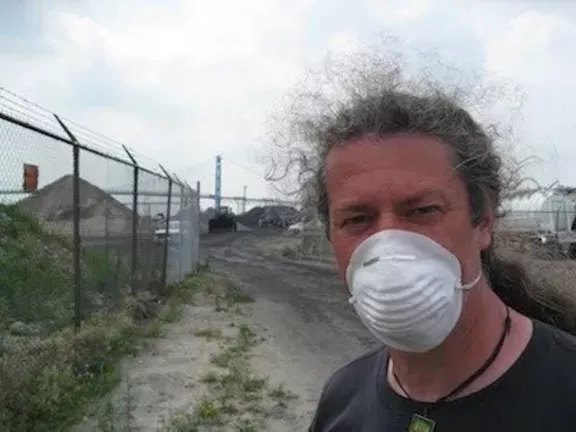 MT
readers may recall
our coverage several years ago
when piles of petcoke began rising on the waterfront, causing residents to complain about the gritty, greasy stuff blowing into their open windows, even when workers were spraying it down to keep it from being carried by the wind. The city was also upset that the company storing the mammoth piles of petcoke were doing so "without proper zoning clearances," "necessary permits," and in violation of "applicable height restrictions."
But some powerful interests had a profit motive for turning the riverfront into their corporate ashtray. As
Curt Guyette had reported in 2013
, "The petcoke is coming from Detroit's Marathon oil refinery. It is reportedly being purchased by Koch Carbon, a company owned by billionaire industrialists Charles and David Koch."
The only problem was that
the stuff was obviously blowing all over the place
. As in, "Holy shit, look at that pile of cancer-causing dust flying all over the place! Let's GTFOOH!"
But, hey, our powerful interests are enlightened, right? They took most of the petcoke off the riverfront, and instead replaced it with something called "coke breeze." (
As Fox 2 told us at the time
, "Unlike pet coke, this material doesn't cause cancer but it poses some health risks many are concerned about." We can only imagine how that made petcoke opponents feel!)
Finally, four years after struggling to get over industrial interests and actually keep dust inside a building or container so these carbonaceous products don't become windblown pollutants, Detroit has struck a deal.
An ordinance introduced by City Councilwoman Raquel Castaneda-Lopez four years ago was finally passed in Detroit on Oct. 31. The councilwoman said it took so long because of "
industry pushback
," as shipping, construction material, and scrap metal processing industries had spent much effort protecting their piles of profits. "Make us store petcoke indoors," they seemed to warn, "and next they'll also demand we store met-coke and coke breeze indoors as well! Who will remain to stick up for the asphalt millings, the steel slag, or beautiful hills of gravel, sand and limestone?"
Castaneda-Lopez's neighbors are probably unimpressed by these caveats. As Detroit activist Diane Weckerle put it, "It was continuously delayed by industrial polluters and their army of high paid lawyers. The councilwoman and her staff, residents of Southwest Detroit, Wayne State University's Great Lakes Environmental Law Center and others finally won the battle to make it illegal to handle and dump carbonaceous materials — petcoke, metcoke, coke breeze and coal — along the riverfront, in the neighborhoods or anywhere else in the city."