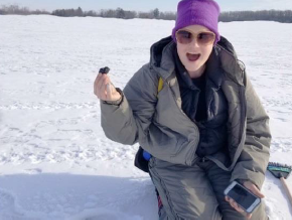 Remember the Michigan meteorite that lit up the January sky, terrified local residents, and fascinated meteorite hunters?
Well, now you can buy a piece of that interstellar rarity, but it'll come with a hefty price tag.
According to a Detroit Free Press article published this morning, a meteorite fragment found by Royal Oak resident Ashley Moritz in Livingston County will be sold by Christie's during an auction series called Sculpted by Nature: Fossils, Minerals, and Meteorites. According to Christie's, it is one of the best preserved meteorites in the collection.

The fragment is currently on display at the Rockefeller Center in New York City where it will stay until the auction, which begins April 10.
As the fascination with meteorites grows, so does their value. Christie's meteorites can cost anywhere between $5,000 to $250,000.
Current meteorites for sale were found in Argentina, Russia and Namibia. You can check out them yourself at their
auction page
.

Jack Nissen is an editorial intern at
Metro Times
and a masters student of environmental journalism at Michigan State University.