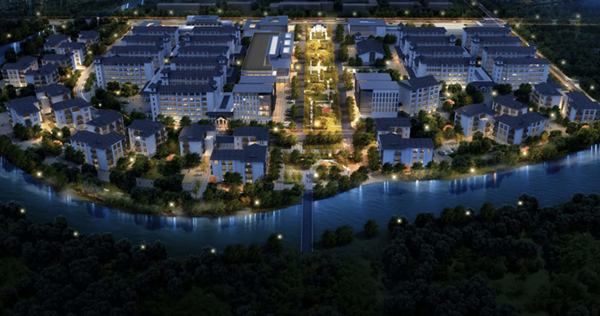 The Chinese Consulate in Chicago is denying that it was the funding source for
a controversial trip to China
for four city of Ypsilanti officials.
"We hereby clarify that the Chinese Consulate General in Chicago knows nothing about and has nothing to do with this trip, and there is no such thing as 'funding the trip,'" Qiwen Shen, a Consulate spokesperson, wrote in an email to
Metro Times
.
Mayor Amanda Edmonds, mayor pro-tem Nicole Brown, police chief Tony DeGiusti, and economic development director Beth Ernat traveled to China between Sept. 21 and Oct. 2.
The trip is part of the a proposed $300 million development called International Village that will mostly house Chinese students near downtown Ypsilanti. It's to be partially funded through the controversial EB-5 visa program.
The public and other city officials were led to believe by Ernat and Edmonds that the Wayne State University Chinese Student and Scholar Association funded the trip.
A
Metro Times investigation
into the funding source found
that the CSSA did not fund it. The CSSA said it received the money from the project's developer, Troy-based Amy Xue Foster. After that was brought to city officials' attention by
Metro Times
, Ernat admitted that the student group did not fund the trip.
She told city manager Darwin McClary that the Chinese Consulate in Chicago gave International Village the roughly $16,200 for the trip. The Chinese government provided "grants," city officials say.
However, the spokesperson from the Chinese Consulate in Chicago sent the statement that denied involvement to
Metro Times
on Thursday afternoon.
In a follow up phone call with
Metro Times
, Shen said that the story "caught us by surprise." He questioned how funding the trip could benefit the Chinese government.
When asked if the Chinese Consulate in Chicago provides grants for this type of trips, Shen said it does not. He denied any Chinese government involvement with Xue Foster.
That opens a whole new set of questions in an already convoluted story. Is Ernat lying when she says that the Chinese government funded the trip via the developer? Did someone lie to Ernat about the funds' source?
Council opened an investigation into the matter on Tuesday and will question Ernat and other city officials at a special hearing on Oct. 10.
McClary says the city is "very concerned about the source of funding of the China trip for certain city officials by the Wayne State University Chinese Students and Scholars Association."
"The city is working to engage the services of an independent law firm to handle the investigation of the facts related to the funding source," he adds. "The city council is conducting its own separate investigation related to the knowledge and actions of city officials concerning the trip."
For the full backstory, read our coverage of the trip
here
.